Australian NRL Betting Sites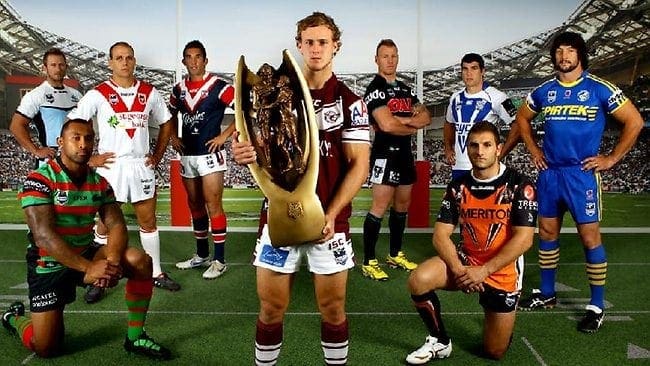 THE NRL is hugely attractive for punters with matches on at least four nights a week during the season. This means online bookies in Australia target us with potentially lucrative bonuses and freebets.
Online bookmakers are operating in a very competitive market so these promotions are getting better and better, despite the government doing their best to block the traditional 'freebet'.
Long gone are the days of lining up in the dingy TAB to make a bet, trying to decipher the codes and Jurassic era machines to place a bet. Now we can have a flutter at home, placing a bet through your desktop, tablet or mobile: it's a great time to be alive.
With the boom in online bookies came competition and competing bookies chasing your dollar are constantly trying to undercut their opposition and offer you the best deal, sign up bonus, free bets, elevated odds etc. in an attempt to win your betting dollar.

Best bookies to bet on NRL
The best bookies to have a flutter on the NRL are listed below. We personally use the following online bookies because of their well earned reputations for bettor safety and privacy as well as their penchant for offering great sign up bonuses and a constant flow of promotions and free bets. Always be aware though that sign up bonuses are not available to residents of Victoria, NSW, Western Australia and South Australia.
CrownBet.com.au
Aside from the great sign up bonus of up to $150 worth of bonus bets, CrownBet.com.au is catering to their die-hard NRL fans with their NRL multi deal. If you make a multi-legged NRL bet and one leg fails to get over, then you receive a bonus bet equal to your initial bet up to $50. It's like you never lost at all!
SportsBet.com.au
SportsBet.com.au has a lot more to offer than just their up to $100 matched bet sign up bonus. They regularly offer Mega Bet's on the NRL as well as their long standing NRL Multi Special, if you have a multi of five legs or more on the NRL and one leg fails, then you get cash back up to $50.
SportsBet.com.au also regularly runs 1st Try Scorer Special on particular games: if your 1st try scorer bet doesn't score the first try, but does score the second or third try, then you get cash back up to $50.
WilliamHill.com.au
Besides WilliamHill.com.au's amazing sign up bonus of up to $200 in bonus bets, they also offer Premium Price. This is a new initiative by William Hill that allows you to access above market odds on one bet per day. Premium Price can be used on any single bet NRL game.
This is a revolutionary move forward that will undoubtedly be copied by William Hill's competition time and time again.
Best way to take advantage of these free bets
Being vigilant is the best way to take advantage of free bets. Having accounts with multiple online bookies ensures that you can pick and choose which online bookie fits you best for the bet you want to make.
Regularly checking the promo pages of these online bookies to see what deals, free bets, cash back deals or bonus bets are on offer is a great way to save you money or maximize your winnings.
Another way to stay in the loop is to have signed up at these bookmakers. You will find in the days leading up to the new NRL round they will send out an email with details of any ongoing, or one-off promotions they might be running.