2019 US Open golf betting
The United States Open Championship is one of golf's oldest, toughest and most prestigious tournaments. Brooks Koepka defended his title in 2018, but can he complete the hat-trick at Pebble Beach? Keep reading to find out how and where to get the best odds on US Open golf in United States.

Best US Open betting sites
Best bookmakers for US Open golf
Online bookmakers do a heap of business during the majors, and the US Open is no exception. Some betting sites are better than others, however, and choosing wisely can be the difference between making a killing and getting ripped off. The licensed golf bookies above are all regulated and secure, offering great odds, wide-ranging markets and outstanding perks to gamblers in United States.
Popular US Open betting markets
There are dozens of way to bet on major golf tourneys such as the US Open. Below are some of the most popular markets available at licensed online sportsbooks.
Outright winner – This is exactly as it sounds. If your man lifts the trophy, you win. As with all major golf tournaments, US Open futures odds are available many months in advance.
Top places – Instead of betting on the outright winner, you can back a player to finish in the top five, top 10, or even the top 20. Most golf betting sites pay out on ties, but this can vary.
To make/miss the cut – Again, this one is self-explanatory. You can bet that a player will make the cut and proceed to the third round, or that he will fall short and bow out at the halfway point.
Round leader – Fancy someone to jump out to flyer? Who is the strongest performer on moving day? Most bookies take bets on who will lead the tournament after round one, round two and round three.
Group winner – Players are divided into threesomes for the first two rounds. All leading golf bookies run markets where the aim is to pick which of the three players in a group will shoot the lowest score.
Head-to-head matchups – The final two days of the US Open are played in pairs. For gambling purposes, this creates a straight-up matchplay scenario with some fascinating one-on-one tussles.
Field bets – These markets tend to open up when one or a few players break away from the rest. For example: if Rory McIlroy starts the final day five shots clear, you can back either Rory to win or anyone else (the field) to win.
US Open 2019 at Pebble Beach
This is the sixth time Pebble Beach Golf Link has played host to the US Open Championship. The tournament last visited Monterey in 2010, when Graeme McDowell joined an illustrious honour board that includes Jack Nicklaus (1972), Tom Watson (1982) and Tiger Woods (2000).
Signature holes
Built on the bluffs atop Carmel Bay, Pebble Beach is without doubt the most picturesque venue on the US Open rota. All the standout holes run by the sea, even if erosion and inclement weather have forced a few alterations in recent years.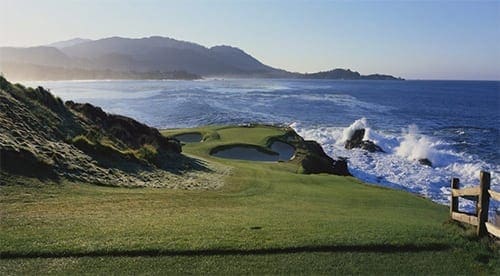 #7 – Par 3, 109 yards: The shortest hole on this year's US Open scorecard is also one of the most breathtaking. Played from an elevated tee down to a small green surrounded by bunkers and sea spray, wind
#8 – Par 4, 428 yards: What's on the other side of that blind tee shot? Only the most daunting approach shot in golf. It takes a well-struck iron to carry the cliffs, avoid the traps and find the right angle into one of the smallest greens on the course.
#18 – Par 5, 543 yards: The epic closer at Pebble Beach is one of those rare par fives that gets better and better with age. With modern technology giving players so much power and forgiveness off the tee, the Pacific Ocean has never been more in play.
More about the US Open Championship
This is the fifth time Shinnecock Hills has hosted the US Open, and the first since 2004. To date, only Oakmont (nine), Baltusrol (seven) and Oakland Hills (six) have held the event on more occasions.

Whereas most US Open venues feature tight, tree-lined fairways and narrow playing lines, Shinnecock is an undulating seaside course that has plenty in common with the great links and heathland tracks of the British Isles. She is as brutal as she is beautiful, however, with over 150 sand traps, acres upon acres of knee-high rough, and slick greens that are hard to hold when the wind gets up.

Only two of the four previous US Open winners at Shinnecock Hills recorded under-par scores: Raymond Floyd at one-under in 1986 and Retief Goosen at four-under in 2004. The next best was Corey Pavin, who outlasted Greg Norman down the stretch in 1995 to finish even with the card.

Signature holes

Shinnecock Hills is littered with show stoppers, but these few rank among the very best tournament holes anywhere in the world.

#11 – Par 3, 158 yards: The shortest hole at Shinnecock Hills is also one of the toughest, playing uphill to a heavily wind-affected green that slopes away on all sides. In slick US Open conditions, anything but a perfect tee shot will leave you with a tricky second from either the sand or the bottom of a grassy slope over the back.

#14 – Par 4, 518 yards: Many regard the 14th at Shinnecock as one of the greatest holes in all of North America. An elevated tee looks down to a tight, undulating fairway that bends and then rises to a hilltop green that demands a precise and well-considered approach. Above all, it is the natural beauty of this hole that stands out.

#16 – Par 5, 616 yards: Shinnecock's longest hole now plays around 70 yards bigger than it did during the 2004 US Open. With a snaking fairway that dares the heavy hitters to carry the corners with their second shot and take on a green that sits among a nest of sand traps, even the world's best can easily wind up with an eight


The United States Open Championship was first staged on October 4, 1895 at Newport Country Club in Rhode Island. The nine-hole course was played four times in a single day as Horace Rawlins, the host club's young English professional, bested 10 others to take home $150 cash and a gold medal valued at $50.

Two common themes arose in the early years of the US Open: the tournament was held primarily in the north-eastern states, and visiting pros from the British Isles dominated the honour board. John McDermott snapped the latter trend in 1911 when, at only 19 years of age, he became the first American-born player to win the national championship. He backed it up the following year and came close again in 1913, when Brookline's own Francis Ouimet bested Harry Vardon and Ted Ray in a famous playoff to be crowned the first-ever amateur champion.

Ouimet's victory heralded a golden age of golf in the United States. Walter Hagen won the championship twice either side of World War I, with amateurs Chick Evans and Jerome Travers saluting in between. Gene Sarazen claimed the first of his two victories in 1922 before the great amateur Bobby Jones embarked on a run of four titles between 1923 and 1930.

As a pastime of the rich and powerful with little room for the working classes, golf's popularity waned somewhat during the Great Depression. After World War II, however, the US Open and the sport as a whole rose to new heights in America. Ben Hogan etched his name in history with four victories between 1948 and 1953; the swashbuckling charisma of Arnold Palmer brought the game to a wider audience when he backed up his Masters win with US Open glory in 1960; and two years later, a superstar was born when Jack Nicklaus defeated Palmer in a legendary playoff at Oakmont.

Another thing that emerged after the Second World War was the distinct character of the tournament. Whereas the Masters is known for the beauty of Augusta National and the British Open is a showcase of the world's oldest and finest links courses, the US Open is now renowned as the toughest test of golf on the planet. Fairways are mowed to the width of a sidewalk, greens are cut short and starved of water, and the rough is allowed to reach such a density that even the strongest players on tour often struggle to move a ball from it. Courses are long and usually play to 70, so it is not uncommon for the winner to finish over par after four rounds.


Below is every US Open champion since 1946, when the tournament resumed after a hiatus during World War II. Scores marked with an asterisk (*) indicate that an 18-hole playoff was required to determine the victor.

2018 – Brooks Koepka (USA) at Shinnecock Hills – 281 (+1)
2017 – Brooks Koepka (USA) at Erin Hills – 272 (-16)
2016 – Dustin Johnson (USA) at Oakmont – 276 (-4)
2015 – Jordan Spieth (USA) at Chambers Bay – 275 (-5)
2014 – Martin Kaymer (GER) at Pinehurst – 271 (-9)
2013 – Justin Rose (ENG) at Merion – 281 (+1)
2012 – Webb Simpson (USA) at Olympic Club – 281 (+1)
2011 – Rory McIlroy (NIR) at Congressional – 268 (-16)
2010 – Graeme McDowell (NIR) at Pebble Beach – 284 (EV)
2009 – Lucas Glover (USA) at Bethpage – 276 (-4)
2008 – Tiger Woods (USA) at Torrey Pines – 283 (-1)*
2007 – Angel Cabrera (ARG) at Oakmont – 285 (+5)
2006 – Geoff Ogilvy (AUS) at Winged Foot – 285 (+5)
2005 – Michael Campbell (NZL) at Pinehurst – 280 (EV)
2004 – Retief Goosen (ZAF) at Shinnecock Hills – 276 (-4)
2003 – Jim Furyk (USA) at Olympia Fields – 272 (-8)
2002 – Tiger Woods (USA) at Bethpage – 277 (-3)
2001 – Retief Goosen (ZAF) at Southern Hills – 276 (-4)*
2000 – Tiger Woods (USA) at Pebble Beach – 272 (-12)
1999 – Payne Stewart (USA) at Pinehurst – 279 (-1)
1998 – Lee Janzen (USA) at Olympic Club – 280 (EV)
1997 – Ernie Els (ZAF) at Congressional – 276 (-4)
1996 – Steve Jones (USA) at Oakland Hills – 278 (-2)
1995 – Corey Pavin (USA) at Shinnecock Hills – 280 (EV)
1994 – Ernie Els (USA) at Oakmont – 279 (-5)*
1993 – Lee Janzen (USA) at Baltusrol – 272 (-8)
1992 – Tom Kite (USA) at Pebble Beach – 285 (-3)
1991 – Payne Stewart (USA) at Hazeltine – 282 (-6)*
1990 – Hale Irwin (USA) at Medinah – 280 (-8)*
1989 – Curtis Strange (USA) at Oak Hill – 278 (-2)
1988 – Curtis Strange (USA) at Brookline – 278 (-6)
1987 – Scott Simpson (USA) at Olympic Club – 277 (-3)
1986 – Raymond Floyd (USA) at Shinnecock Hills – 279 (-1)
1985 – Andy North (USA) at Oakland Hills – 279 (-1)
1984 – Fuzzy Zoeller (USA) at Winged Foot – 276 (-4)*
1983 – Larry Nelson (USA) at Oakmont – 280 (-4)
1982 – Tom Watson (USA) at Pebble Beach – 282 (-6)
1981 – David Graham (AUS) at Merion – 273 (-7)
1980 – Jack Nicklaus (USA) at Baltusrol – 272 (-8)
1979 – Hale Irwin (USA) at Inverness Club – 284 (EV)
1978 – Andy North (USA) at Cherry Hills – 285 (+1)
1977 – Hubert Green (USA) at Southern Hills – 278 (-2)
1976 – Jerry Pate (USA) at Atlanta Athletic Club – 277 (-3)
1975 – Lou Graham (USA) at Medinah – 287 (+3)*
1974 – Hale Irwin (USA) at Winged Foot – 287 (+7)
1973 – Johnny Miller (USA) at Oakmont – 279 (-5)
1972 – Jack Nicklaus (USA) at Pebble Beach – 290 (+2)
1971 – Lee Trevino (USA) at Merion – 280 (EV)*
1970 – Tony Jacklin (ENG) at Hazeltine – 281 (-7)
1969 – Orville Moody (USA) at Champions – 281 (+1)
1968 – Lee Trevino (USA) at Oak Hill – 275 (-5)
1967 – Jack Nicklaus (USA) at Baltusrol – 275 (-5)
1966 – Billy Casper (USA) at Olympic Club – 278 (-2)*
1965 – Gary Player (ZAF) at Bellerive – 282 (+2)*
1964 – Ken Venturi (USA) at Congressional – 278 (-2)
1963 – Julius Boros (USA) at Brookline – 293 (+9)*
1962 – Jack Nicklaus (USA) at Oakmont – 283 (-1)*
1961 – Gene Littler (USA) at Oakland Hills – 281 (+1)
1960 – Arnold Palmer (USA) at Cherry Hills – 280 (-4)
1959 – Billy Casper (USA) at Winged Foot – 282 (+2)
1958 – Tommy Bolt (USA) at Southern Hills – 283 (+3)
1957 – Dick Mayer (USA) at Inverness Club – 282 (+2)*
1956 – Cary Middlecoff (USA) at Oak Hill – 281 (+1)
1955 – Jack Fleck (USA) at Olympic Club – 287 (+7)*
1954 – Ed Furgol (USA) at Baltusrol – 284 (+4)
1953 – Ben Hogan (USA) at Oakmont – 283 (-5)
1952 – Julius Boros (USA) at Northwood – 281 (+1)
1951 – Ben Hogan (USA) at Oakland Hills – 287 (+7)
1950 – Ben Hogan (USA) at Merion – 287 (+7)*
1949 – Cary Middlecoff (USA) at Medinah – 286 (+2)
1948 – Ben Hogan (USA) at Riviera – 276 (-8)
1947 – Lew Worsham (USA) at St Louis – 282 (-2)*
1946 – Lloyd Mangrum (USA) at Canterbury – 284 (-4)*


The first US Open was held at Newport Country Club in Rhode Island in 1895. Since then, the tournament has travelled to more than 60 different courses all over the United States.

Most US Opens: Nine – Oakmont (1927, 1935, 1953, 1962, 1973, 1983, 1994, 2007, 2016)

Longest course: 7,845 yards – Erin Hills (2017)

Shortest course: 4,423 yards – Shinnecock Hills (1896)

Longest hole: 671 yards – 16th at Olympic Club (2012)

Shortest hole: 92 yards – Seventh at Pebble Beach (2010)

Highest winning score: 331 – Willie Anderson at Myopia Hunt (1901)

Lowest winning score: 268 – Rory McIlroy at Congressional (2011)


Most titles:

Four – Willie Anderson (1901, 1903, 1904, 1905), Bobby Jones (1923, 1926, 1929, 1930), Ben Hogan (1948, 1950, 1951, 1953), Jack Nicklaus (1962, 1967, 1972, 1980)

Most consecutive titles: Three – Willie Anderson (1903-05)

Lowest total score: 268 – Rory McIlroy, 65-66-68-69 (2011)

Lowest round score: 63 – Johnny Miller (1973), Jack Nicklaus (1980), Tom Weiskopf (1980), Vijay Singh (2003), Justin Thomas (2017)

Largest winning margin: 15 – Tiger Woods (2000)

Most runner-up finishes: Six – Phil Mickelson (1999, 2002, 2004, 2006, 2009, 2013)

Golf news and betting tips