Cubs favoured to go back to back as MLB season 2017 looms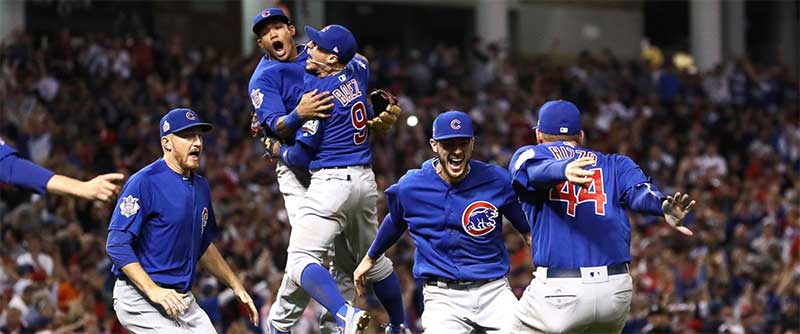 CAN you smell that?
We are just over a week away from the greatest day of the year – Opening Day in the Major Leagues.
So it's time to really think about where we are going to direct our hard earned money and make sure it is on the World Series winner.
And the champions are leading the way, along with one of baseball's all time great clubs.
After finally banishing their hoodoo, the Chicago Cubs are the +350 equal favourites with the Boston Red Sox.
The Cubs had not played in a World Series since 1945 – and had not won one since 1908 – before last year's inspiring victory over the Cleveland Indians, bouncing back from 3-1 down to reel off three straight wins and take the series in seven.
The Cubs will enter the season as the hunted, rather than the hunters and, while they have lost a key man in Dexter Fowler is gone, but the Cubs have plenty of soldier who can step up in his stead.
A team that features superstars like Kris Bryant and Anthony Rizzo is always a chance of winning the World Series and they are the deserved favourites.

But don't tell that to the Red Sox.
Boston finished first in the American League east, but lost to the Indians in the playoffs and will be hardened by that.
Adding the likes of Chris Sale from the Chicago Whitesox and Tyler Thornberg from the Milwaukee Brewers, as well as the free agent pick up in Mitch Moreland, the Sox will have to adjust to life without Big Papi David Ortiz, who has finally given the game away.
If they can get something like past form from Pablo Sandoval, whose $95 million contract became a poison chalice for him last season, that could be enough to tip them over the edge.
Speaking of the Indians, they are the only other candidates with Bovada.lv in the market, at +900, with the Los Angeles Dodgers, Washington Nationals and San Francisco Giants all level as the next best hopes at +1100.
2017 MLB World Series winner market:
Chicago Cubs +450
Boston Red Sox +450
Cleveland Indians +800
Los Angeles Dodgers +1000
Washington Nationals +1100
San Francisco Giants +1100
Houston Astros +1400
New York Mets +1400
Toronto Blue Jays +2200
St. Louis Cardinals +2200
New York Yankees +2500
Detroit Tigers +2500
Texas Rangers +2800
Seattle Mariners +3300
Baltimore Orioles +3300
Kansas City Royals +3300
Colorado Rockies +4000
Los Angeles Angels +4000
Pittsburgh Pirates +5000
Miami Marlins +7500
Atlanta Braves +7500
Arizona Diamondbacks +7500
Tampa Bay Rays +10000
Chicago White Sox +10000
Minnesota Twins +12500
San Diego Padres +15000
Oakland Athletics +15000
Philadelphia Phillies +15000
Milwaukee Brewers +20000
Cincinnati Reds +20000
Odds provided by Bovada.lv