New England Patriots favourite to win NFL Super Bowl in 2016-17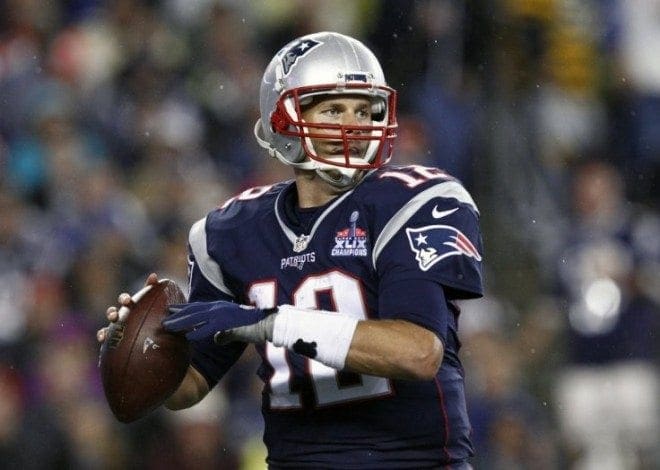 A NEW year brings a new NFL season, but where on earth are the reigning Super Bowl winners in the market?
The Denver Broncos, minus retired superstar quarterback Peyton Manning, are are way down at ninth on the line of Super Bowl betting, equal with the Dallas Cowboys.
It's clear the bookies – and punters for that matter give the Broncos absolutely no hope of winning the title again, despite the fact they still possess one of the best defensive lines in the game.
The season kicks off on Friday, September 9, so we're only a few weeks away, and it looks like the New England Patriots, as they have so often been, are the team to beat.
Beaten in last year's Super Bowl by the Broncos, 24-10, have reloaded again and are the red hot favourites at +600 to go one better at Super Bowl 51.
Their superstar quarterback Tom Brady will have to sit out the first four games of the season, thanks to the suspension over deflate-gate being upheld, but they have his heir apparent in Jimmy Garoppolo to fall back on.
It will be the first time since way back in 2001 that a quarterback other than Brady will start the season opener for the Patriots.

Brady won't be allowed to train, or even talk football with his team mates during his suspension, with NFL vice president of communications saying that Brady can't "engage in any team football-related activities or discussions with teammates, even if away from the club facility."
As far as super coach Bill Belichick is concerned, the Patriots will prepare for the season with Jimmy G as the number one, but Brady will assume the mantle as soon as he is allowed to return to the action.
"We finally have some definition with Tom's situation, so our priority is to get Jimmy ready for the start of the season, for the Arizona game," Belichick said.
"So that will be a comprehensive process.
"Tom will return as the starting quarterback when he comes back.
"In the mean time, we have to prioritise the first part of our schedule, and that will be getting Jimmy ready to go."
Rookie Jacoby Brissett will also put his name up in lights, should Garoppolo struggle – he only threw four in-game passes all last season.
"I think we have a good situation," Belichick said.
"We have three players we want to work with.
"Look, in some other years I've seen teams that probably don't feel like they have anybody, or maybe they have one.
"I think we're in a good situation."
That might be an understatement. With absolute superstars like Julian Edelman and Rob Gronkowski in that line up, there's no doubting they are the favourites to win it all again.
But the Green Bay Packers will no doubt think they should have a say in matters.
And so does online bookmaker Bovada.lv and its punters, rating the Packers a +850 second favourite behind the Patriots.
Any side with Aaron Rodgers running the show has to be a chance.
He is one of the great quarterbacks and, coach Mike McCarthy says his superstar is "in the best shape I've seen".
"I would say Aaron's vibe, and really his offseason participation and performance, looks to line up for a great year," McCarthy said.
"He's in great shape.
"I would say this is the best shape I've seen him in.
"I would say he's ready to go.
"I know he's excited.
"Just in communication with him he's excited to get started."
That's bad news for the rest of the competition.
His Packers might be the second favourite, but he is the man when it comes to the NFL Most Valuable Player Award.
He is a very tight +425 to take out that title for the third time, after winning it previously in 2011 and 2014.
His nearest challenger for the NFL's highest individual honour is the Pittsburgh Steelers' star Ben Roethlisberger.
Bovada has him at +750, ahead of guns Russell Wilson and Cam Newton, both at +800.
2016-17 NFL Super Bowl winner market
Green Bay Packers +850
Seattle Seahawks +1100
Pittsburgh Steelers +1200
Carolina Panthers +1200
Arizona Cardinals +1200
Minnesota Vikings +1600
Indianapolis Colts +1600
Denver Broncos +1800
Dallas Cowboys +1800
Cincinnati Bengals +2000
New York Giants +2200
Oakland Raiders +2500
Kansas City Chiefs +2800
Houston Texans +3300
Baltimore Ravens +4000
Jacksonville Jaguars +4000
Washington Redskins +5000
New York Jets +5000
Atlanta Falcons +5000
Chicago Bears +5000
Philadelphia Eagles +6600
Buffalo Bills +6600
Los Angeles Rams +6600
Miami Dolphins +6600
San Diego Chargers +6600
Detroit Lions +6600
New Orleans Saints +6600
Tennessee Titans +6600
Tampa Bay Buccaneers +10000
San Francisco 49ers +10000
Cleveland Browns +10000
Odds provided by Bovada.lv
2016-17 NFL Most Valuable Player winner market
Aaron Rodgers +425
Ben Roethlisberger +750
Cam Newton +800
Russell Wilson +800
Andrew Luck +1200
Carson Palmer +1600
Eli Manning +2500
J.J. Watt +2500
Tony Romo +2500
Drew Brees +3300
Adrian Peterson +3300
Todd Gurley +5000
Andy Dalton +5000
Derek Carr +5000
Khalil Mack +5000
Blake Bortles +6600
Rob Gronkowski +6600
Matt Ryan +6600
Brock Ostweiler +6600
Antonio Brown +6600
Tyrod Taylor +6600
Philip Rivers +7500
David Johnson +7500
Odds provided by Bovada.lv