2019 Rugby Union World Cup betting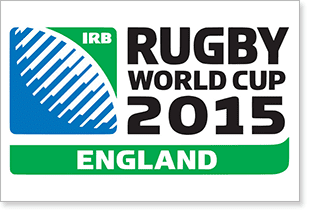 They say Rugby is the game played in heaven. If that's true, England will be a true paradise this September when the World Cup comes rolling into town.
Since 1987 – the year of the World Cup's inception – fans of the game have waited with baited breath every four years for the Rugby Union's pinnacle.
With a bevvy of markets to bet on at a wide variety of quality sports books, wagering on the Ruby World Cup online has never been easier.
Below BettingPlanet.com has taken a close look at the combatants for Union's biggest prize in 2015.
Who should you bet on?
Pool A
Pool A looks to be a pretty tough group of competitors, but any right-thinking person would bank on Australia and England to proceed from the pool round with Wales narrowly missing out.
Australia
The Aussies have won the Cup twice already (in 1991 and 1999) and are currently ranked number five in the world.
Australia has been a team in transition for the last year or so with an almost revolving door of coaches and players. This sort of instability has shown on the field with incredibly-inconsistent performances – these range from stopping the All Blacks' aspirations of a record 18 consecutive Test wins to the Wallabies' first loss to Argentina in 17 years.
The appointment of Michael Cheika as head coach has garnered praise from all corners of Australia. The prospect of prodigal playmaker James O'Connor returning to the squad and the possible emergence of NRL and AFL code hopper Karmichael Hunt adds some genuine excitement in the lead up to the Cup.
Bovada.com has Australia at odds of 17/2 in the overall futures markets – these odds are good value. The Aussies have all year to work towards picking their best team. If the Wallabies can concentrate on their scrum work and aggression up front they will be sitting pretty. They have the potential to roll any challenger on their day, but sadly, they also have the potential to drop a lead and lose miserably.
England
The Poms are currently ranked number four in the world and have won the Cup once, in 2003. This time they don't have the magical boot of Jonny Wilkinson to win the tournament for them.
The host Nation are a strong pack that benefits from the continuity of stability with head coach Stuart Lancaster guiding the squad to six wins from 12 starts in 2014: three of those losses were to World Cup favourites New Zealand though.
The prospect of NRL convert and current Bath centre Sam Burgess making a push for the World Cup is exciting and his perpetually-Herculean work load on and off the ball would only bolster England's chances of of winning the Cup on home turf.
Bovada.lv has England at short odds of 7/2, which isn't surprising given their generally strong form recently and home ground advantage.
Wales
The Welsh can't boast the greatest track record when it comes to the Cup, with their best result a third place in the inaugural 1987 World Cup. Since then their best result was a fourth place in 2011.
Currently world number six, Wales has a strong forward pack and one of the most exciting finishers in the game in their fullback Leigh Halfpenny. Their 2014 season hasn't really been anything to write home about though, only chalking up five wins from 11 outings.
Bovada.lv is offering conservative odds of 14/1 on the Red Dragons to win the Cup. They might put up a bit of a show during their pool matches, but will be expected to fall short of proceeding past the pool stage.
Fiji
The Flying Fijians have never recorded a top four win in any World Cup to date and are currently ranked 12th in the world. Their 2014 representative season was impressive, winning four of their seven matches, including an 108-6 win over the Cook Islands and a win over Italy.
With Bovada.lv offering up odds of 750/1 on the Fijian's taking out the Cup, it is easy to see why most consider them cannon fodder for the top tier teams. Fiji might win a game in its pool, but that is about it.
Uruguay
Another team that won't progress out of Pool A. Uruguay is currently ranked 20 in world standings.
Bovada.lv hasn't even bothered to calculate odds for Uruguay, instead grouping them together with other no-hopers in a general bet of "any other team" which pays 66/1.
Pool B
This pool looks to be the "push-over" pool. The South Africans will easily move on to the next round, leaving everyone else to argue who else will proceed: either Samoa or Japan?
South Africa

The Springboks, the world number two side, are one of the most consistent union sides with talent spread across the park. In their time the 'Boks have won two World Cups.
Names like Willie le Roux, Bismarck du Plessis, Morne Steyn and Jean de Villiers work hard and provide starch and polish to the South Africa outfit. The Springboks are a lot like the All Blacks in that every member of their squad is wildly talented and hard working, but unlike New Zealand,the 'Boks can sometimes take their foot off their oppositions throat and fail to land the killer blow.
Bovada.lv has South Africa at 4/1 odds to win the comp, which many deem to be generous. Their 2014 international campaign was impressive with nine wins from 13 matches, even downing the All Blacks in October 2014: the first team to beat the Kiwi's since 2012. Having that psychological edge over the All Blacks could prove handy heading into the tournament.
Samoa
Samoa haven't managed a result in any World Cup so far, but the world no.10 side are strong and may be able to chalk up a win or two in the pool stage, possibly even making it to the quarter finals.
Samoa's 2014 international season saw them win three matches and a draw from seven starts.
Bovada.lv has Samoa with odds of 150/1.
Japan
The Cherry Blossoms have not done well in past Cup competitions, only winning one game from their past 24 Cup matches. However, the world no. 11 side are in the midst of a bit of an upswing since former Wallabies coach Eddie Jones took the reigns in 2012.
2014 was a good year for Japan, winning nine of its 10 international outings, including an 132-10 drubbing of Sri Lanka.
The Japanese could conceivably take a couple of wins out of the pool round and continue on to the quarter finals. Despite this, Bovada.lv hasgrouped Japan together with other teams in their "any other team" bet with odds of 66/1. Japan is not a genuine threat to take out the Cup, but could be due for its best performance on the international stage.
Scotland
The world's no.8 side haven't had a spectacular run through previous World Cups, with its best effort a fourth place in the 1991 competition.
Bovada.lv obviously doesn't think too much of Scotland's chances, offering up odds of 75/1. Scotland had a 50 per cent strike rate during its 2014 season campaign and will need miracle to bring home any silverware.
USA
The Yanks currently sit 16th on the international Rugby ladder. They have not set the world alight.
USA had a dismal 2014, winning only three matches and a recording one draw from nine starts.
The USA will do well to win even one game from its pool.
Pool C
Pool C looks to be pretty cut and dry. New Zealand and Argentina are the overwhelming favourites to proceed through to the quarter finals.
New Zealand

The All Blacks are looking at being the first team to win back-to-back World Cups and look as though they might be on track to do it.
Having already won two Cup titles, the Kiwi's will also aim to become the first nation to win a third.
New Zealand is ranked number one in the world and only had two blemishes on its 2014 schedule, losing one game and drawing another.
New Zealand has proven time after time that they have consistency across the park, which begins with their work horse captain, Richie McCaw – the perpetual ruck pest. They have massive forwards that can monster any opposition and one of the most talented backlines going around that can pull the razzle dazzle and baffle any opposition.
Bovada.lv has the world's youngest nation as firm favourites at 3/2 – justifiable odds for an international juggernaut.
In 2014 South Africa was the first team in years to prove that the All Blacks were beatable, so don't expect a complete cake walk.
Argentina
The Pumas have only ever managed a third place finish at previous World Cup comps.
Bovada.lv are offering up odds of 66/1 for Argentina, whichis fantastic value for a squad that could be capable of a top four finish.
Sitting at ninth on the international ladder, Argentina only managed five wins from 14 starts in 2014, but that doesn't do justice to some of the performances they put in.
Tonga
Tonga currently sit 13th in international standings. The small nation has never truly featured in any previous World Cups.
Bovada.lv has given Tonga odds of 75/1. The Tongans have a snow flake's chance in hell of winning the comp outright, however, they should get two wins in the pool phase. 2014 saw Tonga win two matches and tie a third from five starts.
Georgia
At 15th on the international ladder, Georgia is cannon fodder for the other teams with Bovada.lv throwing them into the "any other team" bet with odds of 66/1.
May win a game in the pool phase, that's about it.
Namibia
Another team that will not progress past the pool phase, Namibia sit 23rd in international rankings. The African nation is not expected them to win a single match. Again, Bovada.lv has grouped Namibia under the umbrella of the "any other team" bet with odds of 66/1.
Pool D
This looks to be a generally hotly contested and exciting pool. Ireland and France will be the favoured nations to move on to the quarters, but an upset could be brewing.
France
The Blues have a long history of going close, but never taking home any silverware at the World Cup, managing to come second three times, third once and fourth twice. In fact, only in the 1991 World Cup did they not manage a top four placing.
France sit at no.7 on the ladder despite a pretty bleak 2014 international season, only managing five wins from 11 games.
Bovada.lv has odds of 16/1, which looks like an accurate summation of its recent form.
Lead by its inspirational skipper Thierry Dusautoir, France always find something extra for the big stage. Don't rule them out of being a contender this year.
Ireland
Ireland has never featured in the top four of a Cup, but this might just be the year. Ireland had a 2014 season that was more successful than New Zealand with nine wins from 10 starts.
Sitting at number three on the international ladder, and, given their recent form, it is easy to see why Bovada.lv has the Irish at odds of 9/1 to take out the Cup. In fact, 9/1 may even be very generous given the Irish' scintillating form of late.
Italy
The World no.14 side has never featured in the top four of a World Cup and with odds of 75/1 from Bovada.lv, it is hard to imagine the Italians making any real impact this year either.
Italy's long odds are justified by its 2014 performance of one win from 11 starts. Italy might manage a win or two in the pool stage but even that might be a stretch given its current form.
Canada
Canada, currently sitting 18th on the world scale, is another team living with the infamy of being grouped into the Bovada.lv "any other team" bet with odds of 66/1.
Canada only managed one win from six starts in 2014 and while it's conceivable that it may win one match in pool D, but that is about it.
Romania
Yet another side to be mustered into the inglorious "any other team" bet by Bovada.lv with odds of 66/1.
Romania sit 17th in international rankings and had a positive 2014 season winning seven of its 10 matches. Again, Romania might win a match in its pool, but will not set the world alight or cause any massive upsets.
So get to Bovada.lv to have a punt on their future's markets. When it gets closer to the World Cup itself Bovada.lv will have even more betting markets available like a range of prop bets, head-to-head options, first try scorer and any time scorer just to name a few.