Best Brazil online betting sites

BRAZIL is one of the world's most passionate sporting nations.
A recent host of both the Olympic Games (2016) and the FIFA World Cup (2014), Brazil can now lay claim to being one of the biggest wagering countries in the world since its slow transition into legalised gambling.
With Brazil emerging as a new powerhouse in the online gambling industry, finding the right place to get your bets on has never been easier.
Our list of recommended bookmakers are all abroad for Brazilian punters, but each one listed below does whole-heartedly accept Brazilian Real deposits:


Best ONLINE BOOKMAKERS
All Bookmakers
Best bookmakers for Brazil
Of the bookmakers BettingPlanet recommends, Bet365 provides the best service to Brazilian bettors.
Bet365 accepts the Brazilian Real and accepts INR deposits, giving punters the advantage of avoiding currency conversion fees.
Bet365 is one of the biggest bookmakers in the world. With a wide range of markets, the bookie has a footing in South America and throughout the world. There are easy deposit options for Brazilians and numerous markets in the sport that Brazilians love the most – football.
What sport do Brazilians love to bet on?
The Brazilians are the absolute masters of the world game.
Soccer is oxygen to the South American continent.
Champions of a record five FIFA World Cup titles, the Brazilian Canarinho (canaries) have unearthed the game's greatest players and inspired the world with their skill, precision and dominance for generations.
In addition to their fanatical support and betting interest of the national side, Brazilians are also obsessed with the Campeonato Brasileiro Série A – the best domestic football competition.
When it comes to football betting, bookmakers that accept Brazilian bets provide a wide range of markets to bet on. Everything from results, lines, exotics, player specials, futures and even novelty bets are covered. If it moves on a football field, you'll be able to bet on it.
In addition to the world game, US sports are incredibly popular, especially basketball – in particular, the NBA.
Brazilians have featured prominently in the NBA and the Brazilian national team has been a sharp improver on the world stage, performing admirably in the Olympics and in World Championships.
With its beautiful beaches, endless sun and athletic tradition, volleyball is another popular past-time and betting market. All bookmakers that take Brazilian bets offer markets on the SupaLiga – the country's preeminent domestic league.
Brazil has also had Formula 1 champions, is one of the biggest bastions of the MMA and UFC and consistently produces elite talent in tennis, horse racing and boxing.
Best bookmakers for football betting
The number one bookmaker for Brazilian soccer betting is Bet365.
In addition to its comprehensive offers and specials for national friendlies and international tournaments, Bet365 provides full markets and week-to-week betting options for Brazil Serie A: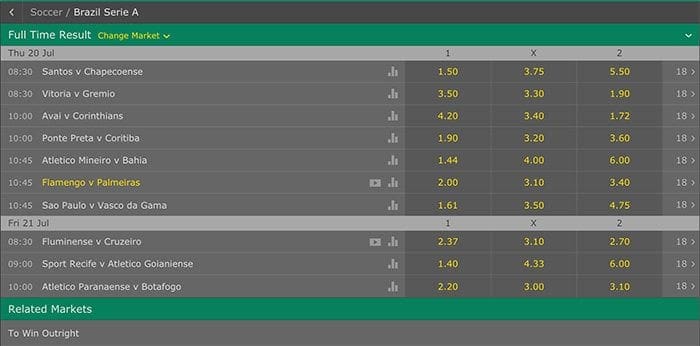 For those looking for an alternative to Bet365, Ladbrokes, MyBet, BetFred and WilliamHill also provide comprehensive markets and cater to Brazilian customers.
Mobile betting in Brazil
As sports betting continues its phase into full legalisation in Brazil, mobile, tablet and smart phone betting options will continue to improve and evolve.
All bookmakers will have detailed desktop websites and most of those will translate well to mobile website use.
The best tool for punters betting on smart phones is the dedicated bookmaker apps like the ones big bookmakers Bet365 and WilliamHill offer. While Brazil is still debating national legislation around this area, some offshore bookmaker applications may not be available for download. We recommend to check the iTunes, Android and Google Play stores for what's available to you.
Deposits and withdrawals for Brazilian betting
As Brazil continues its transition into legalisation, there will remain roadblocks in place for some Brazilian punters that seek to make deposits with a new bookmaker.
If your Mastercard, Visa or other bank card does work, then it's a simple process – each bookmaker will have a clear 'deposit' and 'withdrawal' section that will require you to provide your details and deposit your favoured amount.
If for any reason your bank card provider blocks your attempts at depositing directly, there are alternative routes to take.
Neteller, BPay, direct banking deposits and Entropay can be useful. Using a 'web wallet' can provide a 'middle man' between you and your bookmaker.
We recommend that if you're having any deposit or withdrawal issues, contact your bookmaker via live chat, email or even via phone.