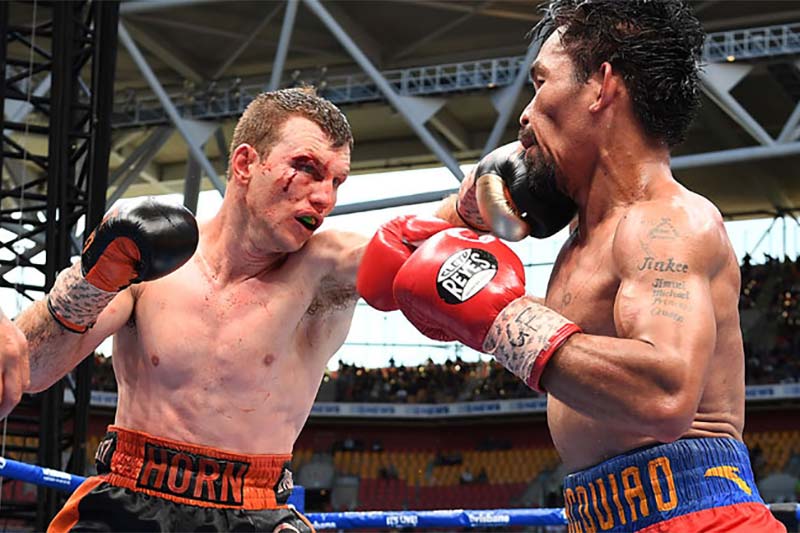 WBO welterweight champ Jeff Horn has singled out the Queensland capital as the only possible venue for a rematch with Manny Pacquiao.

IT'S the hypothetical fight that will probably never happen (we think).
The Ultimate Fighting Championship's most well-known superstar, women's bantam weight champion Ronda Rousey, up against the man many believe is the greatest pound for pound boxer of his generation, Floyd Mayweather, in a battle of the sexes.
And, would you believe, there are plenty who think Rousey would hand the 48-0 Mayweather a beatdown.
Chief among those are our friends at Sportsbet.com.au, who have released a market on the hypothetical match up.
"If unbeaten UFC thrashing machine Rousey was caged with world boxing champion Mayweather she would start favourite," the bookie's Christian Jantzen said.
"Should the battle ever occur in the Octagon we have Rousey as a $1.77 favourite, with Mayweather the $1.96 outsider.
"Rousey has won 11 of her 12 fights in the first round.
"There's no doubt if they met in the cage she would hold her own against the men.
"Obviously that's not going to happen, but Mayweather might take a swipe at her at the next awards ceremony they overlap at."
The bookie has also released markets on how she would fare against the self proclaimed "uncrowned best athlete of all time" Anthony Mundine.
Wouldn't you love to see her wipe the floor with Mundine? It wouldn't be worth betting on though, she's $1.10. 'The Man' is $6.
Part time fighter Sonny Bill Williams, another rugby player, would have a slightly better chance at $4.65 but would still cop a hammering, according to the odds, with Rousey at $1.15.
Rousey made light work of Bethe Correia on the weekend, beating the crap out of her in 34 seconds to retain her title, after the Brazilian had spent the past month running her mouth about the UFC superstar.
In bizarre scenes at the weigh ins before the fight, Correia had a maniacal look on her face and was repeating something in Rousey's face.
Well we now know what she said, and what Rousey said after she sat Correia on her backside in just over half a minute.
"I said the exact same thing she was saying to me at weigh ins," Rousey said.
"You know, she was screaming in my face at weigh ins.
"She was saying, 'Don't cry.'
"So I turned around to her after I knocked her out and I said, 'Don't cry.'"
"I'm sure she'll have to think about me plenty. As far as I'm concerned, it's over and done with."
But could Rousey beat Mayweather?
She definitely thinks so, saying exactly how she'd win the bout.
"I wouldn't even stand up, I wouldn't even be anywhere near him," Rousey said.
"I would just do like a little army crawl over there, and he would have to run away.
"I would just be skittering after him like the one dude in Bloodsport that was doing the whole monkey crawl fight system.
"I would do that.
"I would just bear crawl over there too low for him to hit me, and I'd tackle him down.
"I spend a lot of time on the ground, and I doubt that he does."
The pair has had an ongoing war of words, with Mayweather claiming not to know her, before being beaten out on the best fighter gong at this year's ESPY's by the UFC champ.
"I wonder how he feels being beaten by a woman, for once," Rousey said in a not so veiled swipe at Mayweather's history of domestic violence.
When asked how he would fare against Rousey, Mayweather responded with: "I don't even know who he is."
UFC boss Dana White reckons it would be no contest.
"Yeah, you put Ronda Rousey in any fight situation: a street fight, a mixed martial arts fight – not only does she beat Floyd, she hurts him really bad," White said.
"In a real fight, Ronda Rousey would hurt Floyd.
"He's this big – Ronda gets her hands on him, I've seen her throw much bigger guys."
Manny Pacquiao, the man who Mayweather beat for the welterweight world title that he was recently stripped of, agrees with Rousey.
"I believe so, she is strong and is strong enough to beat Floyd Mayweather in MMA," Pacquiao said.
Former WBC welter weight champion Victor Ortiz is also in the Rousey corner, saying Mayweather would have no hope in the Octagon.
"That's a different world (for Mayweather) … A boxer can't step into an octagon and do boxing things to them," Ortiz said.
"And if it is, it's probably minimal.
"To think that Floyd has a chance in a UFC fight, against Ronda, no.
"But it's also the other way around, if you put a UFC fighter strictly boxing for 12 rounds, it's different.
"It's just you can't compare the two sports, I don't think."
One guy who does think Mayweather would come out victorious is former UFC light weight champion Anthony Pettis, who said the notion Rousey would win was "ridiculous".
And even Sonya Lamonakis, one of the top heavy weight female boxers in the world, reckons the fight would be no contest, with Mayweather making short work of Rousey.
"Floyd Mayweather would knock her out in three seconds. That's a joke," Lamonakis said.
Boxing icon Bruce Silverglade said "women are terrific athletes and often better technicians, but there's a physical difference."
"The men are too strong for the women," Silverglade said.
It's never going to happen, but can you imagine the spectacle? The most loved female fighter of all time up against a man who is either loved or despised, depending on who you speak to, but possesses a boxing record to die for, but a domestic violence record that tells a sad tale of the person behind it.
Go Ronda.
Ronda Rousey hypothetical fight markets
Ronda Rousey v Floyd Mayweather in Octagon
$1.77 Rousey
$1.96 Mayweather
Ronda Rousey v Anthony Mundine in Octagon
$1.10 Rousey
$6.50 Mundine
Ronda Rousey v Sonny Bill Williams in Octagon
$1.15 Rousey
$4.65 Williams

FLOYD MAYWEATHER, the best pound-for-pound fighter in the world, will end his 19-year career when he takes on Andre Berto on September 12 at the MGM Grand in Las Vegas.
The unbeaten Mayweather signed a six-fight deal with Showtime/CBS in 2013 which will expire after the Berto fight and Mayweather has long said that would be his last fight.
Mayweather (48-0) will be looking to equal the 49-0 record set by heavyweight champion Rocky Marciano and the bookmakers have him very short to do so.
"I'm ready to get back in the ring on September 12 and prove again to the whole world why I'm the best ever," Mayweather said. "I always bring my A-game, and this fight against Andre Berto is no exception.
"He's a young, strong fighter who is hungry to take down the best. Forty-eight have tried before, and on September 12, I'm going to make it 49."
Sportsbet.com.au currently have Mayweather at $1.01 with Berto at $14. There isn't much movement expected in the market as Mayweather is at almost unbackable odds, but more exotic markets will be framed closer to the fight date.
Berto (30-3) currently holds the interim welterweight belt, but he is 3-3 at his last three fights. Confidence is never lacking in boxers, however, and Berto believes he can provide Mayweather with a challenge.
"I'm coming to kick Floyd's ass on September 12," Berto said. "Best believe that I plan to bring it to Floyd, and I'm not concerned about what 48 other fighters have been unable to do. Somebody is getting knocked out, and it won't be me. You don't want to miss this."
That all sounds like nothing but good publicity to us. Mayweather hasn't won via knockout since beating Victor Ortiz in 2011 and we can't see Berto getting close enough to Mayweather in order to knock him out.
Mayweather is coming off a points decision win against Manny Pacquiao, which earned the fighter around $220 million, but he is still hungry to return to the ring for one more fight.
Leonard Ellerbe, CEO of Mayweather Promotions, said Mayweather will not have a letdown against Berto.
"One thing we know about Floyd is that he always comes prepared," Ellerbe said. "Floyd Mayweather has never been in a fight where he's not prepared. He always comes ready to do his job each and every time he comes to the ring. He never overlooks anyone.
"We know Berto is coming in looking to knock Floyd's head off. Floyd just has to be prepared. We know Berto is very motivated. He's had ups and downs in his career, but he has been able to bounce back and show the fans he's never in a dull fight.
"Berto is coming with the mentality of 'I'm gonna get him or he's gonna get me.'"
Mayweather opted for the easier fight against Berto as he overlooked Keith Thurman, Amir Khan and Shawn Porter. He made it clear at a press conference in June that he deserved to pick a lesser opponent for his final fight.
Many fans were left disappointed after the Pacquiao fight, but Ellerbe added that selling a fight against Berto will not pose any problems.
"We don't worry about things like that," he said.
"One thing we do know is Berto is always in an exciting fight. He's been in two fight of the year candidates against Victor Ortiz and Robert Guerrero. With that being said, we know it's going to be guaranteed excitement.
"And this will definitely be Floyd's last fight, and the fans will get a chance to witness history."
Mayweather is looking to join the elite undefeated fighters in history, which include the aforementioned Rocky Marciano (49-0), Ricardo Lopez (51-1-0) and Joe Calzaghe (46-0).