Cross city rivalry will take centre stage on Saturday afternoon when Tottenham Hotspur lock horns with Crystal Palace. The London derby will take place at the Tottenham Hotspur Stadium, with the encounter scheduled to kick off at the same time as four other EPL matches across the country.
Mauricio Pochettino will be disappointed that his charges have only amassed just one win from their first four matches of the season, an undoing that currently places them ninth on the log on 5 points. A 3-1 win over newcomers Aston Villa on the opening weekend, and a hard-fought 2-2 draw with champions Manchester City was overshadowed by a shocking 1-0 defeat to Newcastle United and a 2-2 draw against Arsenal.
In their most recent outing, Spurs found themselves with a comfortable 2-0 lead at the Emirates thanks to an early goal by Christian Eriksen and a well taken penalty by Harry Kane five minutes before the interval. The visitors however imploded soon afterwards, as they allowed striker Alexandre Lacazette to halve the deficit right at the stroke of halftime, before Pierre-Emerick Aubameyang added the second in the 71st minute to salvage a point for his side.
Crystal Palace on the other hand beat Aston Villa by a solitary goal before the international break to spring to fourth on the table on 7 points. The only goal of the encounter was scored by Jordan Ayew seventeen minutes to time.
The Eagles may have not made the most convincing start to their campaign, as a 0-0 draw with Everton in their first outing of the season was followed by an unexpected 1-0 defeat to newly promoted Sheffield United.
What however proved to be the turning point for Roy Hodgson's side was their 2-1 thrashing of Manchester United; a result they surely built on before heading out for the September edition of the international break.
Tottenham Hotspur betting news
Pochettino has to contend with a number of injury concerns ahead of welcoming Palace.
Tanguy Ndombele, Ryan Sessegnon, Kyle Walker-Peters and Eric Dier will all have to pass a late fitness test to secure a place in Saturday's line up.
Tanguy missed the last two games with a thigh problem while Sessegnon has yet to feature since signing from Fulham due to a hamstring injury.
Kyle Walker-Peters and defender Eric Dier will also be assessed having missed the North London derby with hamstring and hip issues respectively.
Midfielder Giovani Lo Celso looks to have picked up a hip injury while on international duty with Argentina while center-back Davinson Sanchez injured his ankle in Colombia colors.
Defender Juan Foyth is also sidelined with an ankle injury.
Crystal Palace betting news
Other than being short on numbers at the back, with defenders Scott Dann, Martin Kelly and James Tomkins all suffering from various injuries, the rest of Roy Hodgson's squad remains fit ahead of their trip to Spurs.
Harry Kane EPL betting odds and specials
Kane to score First – $1.66 on William Hill
Kane to score/ Spurs win – $1.85 on William Hill
He may have missed out on the Golden Boot last season, but Harry Kane hasn't faltered in his quest to contend for the coveted prize this campaign. Carrying the burden of being the highest goal scorer over the last six EPL seasons is a challenge that the Three Lions striker relishes; having already found the back of the net three times this season.
In good form and with a better start than in most seasons, Kane should be Tottenham's biggest inspiration in front of goal against Palace.
Match prediction
Tottenham Hotspur v Crystal Palace Head To Head History
Tottenham 2-0 Palace (April 3, 2019)
Son Heung-min 55'
Christian Eriksen 80'
Palace 0-1 Tottenham (November 10, 2018)
Juan Foyth 66'
Palace 0-1 Tottenham (February 25, 2018)
Harry Kane 88'
Tottenham 1-0 Palace (November 5, 2017)
Son Heung-min 64'
Palace 0-1 Tottenham (April 24, 2017)
Christian Eriksen 78'
Spurs v Crystal Palace Betting Tips
Crystal Palace may be ahead of Tottenham on the log, but the Eagles haven't had a scorching run of matches quite like Spurs.
The North Londoners head into the match with an impressive run of eight successive Premier League wins over Palace, conceding just a single goal in the process and are red hot EPL betting favourites.
Although Pochettino's charges haven't played convincingly in their first four matches, they should be able to brush aside Palace with a marginal win.
Tottenham vs Crystal Palace Prediction & Best Bet
Total Goals Under 2.5 – $2.20 at William Hill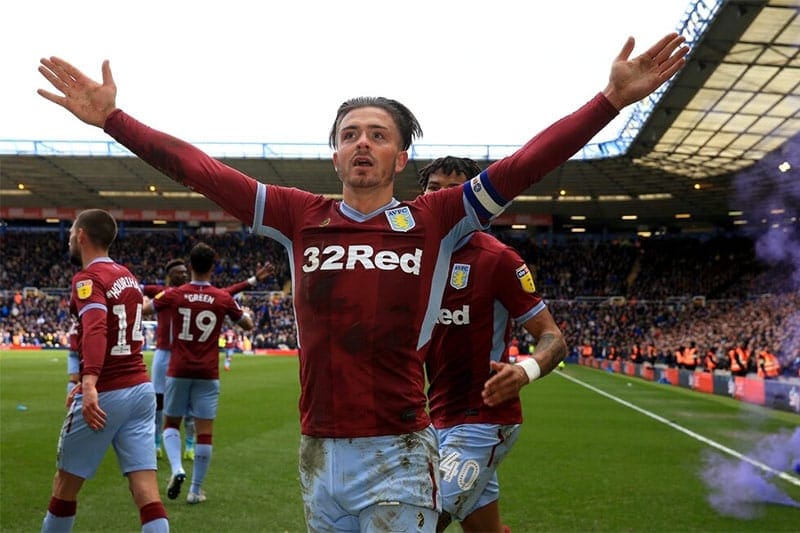 The Villains have spent big over the summer, but will it translate to EPL survival?

ENGLISH Premier League football returns this weekend after that most frustrating of interruptions: the international break.
But the layoff couldn't have come sooner for some of the division's biggest clubs, with Chelsea, Manchester United and Liverpool all suffering upset defeats in the previous round.
Can they bounce back and get their campaigns rolling in earnest on matchday five?
Or will we see the likes of Crystal Palace, Leicester City and Swansea continue their unlikely assault on the top spots?
Here's our view on the most intriguing match-ups of round five in EPL 2015-16, as well as the best-price match odds for every clash over the weekend.
Martial in line for Man United debut against Liverpool
Manchester United and Liverpool is always a blockbuster bout, but this one may also feature one of the most highly anticipated debuts of the season.
The Red Devils closed their summer transfer business by spending a whopping £36 million on Anthony Martial, a relatively untried youngster from AS Monaco.
The 19-year-old French forward is widely billed as the second coming of Thierry Henry, who bagged 175 Premier League goals in 254 games for Arsenal between 1999 and 2007.
While there is no certainty that he will start, online bookmaker Sportsbet.com has Martial at $7 odds to score the first goal at Old Trafford this weekend.
Both sides lost on their last outings, but United's 2-1 reverse at Swansea City was nothing compared to the 3-0 drubbing Liverpool copped as West Ham United claimed their first win at Anfield since 1962.
Star playmaker Philippe Coutinho received a red card in the match, meaning the Brazilian will miss the trip to Manchester.
The Reds' woeful defensive efforts against the Hammers have seen them blow out to $4.50 at Bet365 in the battle of the North West, while the hosts are paying a reasonably generous $1.95 at Sportsbet.
Neither side has shown much in the way of scoring form, with only five goals between them this season, so we certainly aren't expecting a shootout.
Our predictions:
– Man Utd to win 1-0 ($7 at William Hill)
– Wayne Rooney to score the first goal ($6 at Sportsbet)
Chelsea seek redemption in all-blue battle at Everton
By Chelsea's lofty standards, it's been a catastrophic start to Premier League 2015-16.
The Blues have just one win from their first four games, and none so far at the erstwhile fortress of Stamford Bridge.
Their defeat to an upwardly mobile Crystal Palace last time out marked just the second time Jose Mourinho's Chelsea have lost at home in league play.
Punters and bookies alike are abandoning ship, with the preseason favourites now $6.50 – behind both Manchester City and Arsenal – in the Premier League outright betting at www.Sportsbet.com.
And they face a tricky test away from home this weekend, as Everton ($4.20 at www.Bet365.com) look to have rediscovered some of the attacking flair that made them so dangerous two seasons ago.
The Toffees have lost only once this season (2-0 to Manchester City), although their 3-0 romp at Southampton remains their only victory.
The forward crew led by Romelu Lukaku could pose plenty of problems for a Chelsea defence in transition, while Everton's own back line looks in decent shape thanks to the continued presence of John Stones – a hot transfer target over the summer.
Still, we expect Chelsea ($1.96 at CrownBet.com) to come out firing, and poor recent form means their EPL odds are as good as ever.
Our predictions:
– Chelsea to win 2-1 ($9.50 at Bet365)
– Pedro to score the first goal ($8.60 at CrownBet)
Giant killers Crystal Palace take aim at Manchester City
Crystal Palace were among the biggest winners from matchday four, walking away from Chelsea with all three points.
That shock result put them second in the standings with three wins from four league matches, with their only blemish coming in a home defeat to Arsenal.
The sole team above them is Manchester City, and that's just who's coming to dinner at Selhurst Park this Saturday.
Beating an out-of-sorts Chelsea is one thing, but Manuel Pellegrini's Citizens are another matter entirely.
With 10 goals scored, none conceded and 12 points from four games, City have 'champions' written all over them.
The Eagles ($6 at Bet365.com) have looked good, but are they strong enough to contain the likes of Sergio Aguero, David Silva, Raheem Sterling and a rejuvenated Yaya Toure?
They may also have to deal with a certain Belgian gun by the name of Kevin De Bruyne, who could make his first appearance for City this weekend after completing a reported £55 million transfer from Wolfsburg.
We rate Palace highly and would love to see them pull off another massive result, but it would be a very brave man indeed who bets against Man City ($1.61 at Sportsbet.com) this weekend.
Our predictions:
Man City to win 3-0 ($13 at CrownBet)
– Kevin De Bruyne to score anytime ($3.20 at Bet365)
More value odds for EPL Matchday 5
All dates listed according to British Standard Time (BST)
Saturday, September 12
Arsenal – $1.30 at Sportsbet
Draw – $5.50 at Bet365
Stoke City – $11 at William Hill
Norwich City – $2.40 at Sportsbet
Draw – $3.40 at William Hill
Bournemouth – $3.20 at Bet365
Watford – $2.90 at Bet365
Draw – $3.30 at CrownBet
Swansea City – $2.60 at William Hill
West Bromwich Albion – $3.10 at Sportsbet
Draw – $3.20 at Bet365
Southampton – $2.50 at William Hill
Sunday, September 13
Sunderland – $4.20 at CrownBet
Draw – $3.50 at William Hill
Tottenham Hotspur – $1.91 at Sportsbet
Leicester City – $1.86 at CrownBet
Draw – $3.75 at William Hill
Aston Villa – $4.33 at Sportsbet
Monday, September 14
West Ham United – $2.25 at Sportsbet
Draw – $3.40 at Sportsbet
Newcastle United – $3.60 at Bet365