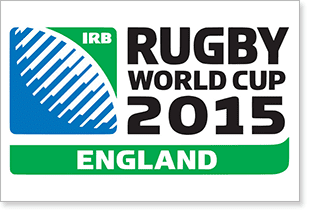 Who: Wales vs. Fiji
When: Friday, October 2, 1:45am (AEST)
Where: Millennium Stadium, Wales
WALES have well and truly turned the 2015 World Cup on its head after they scored a late upset win over co-host nation England last week.
The Welsh were missing some key players – and lost a couple more throughout the game – but they were too strong for England, which held a 12-point lead during the game.
They now take on Fiji, which is win-less in the tournament so far, but has looked to bethe strongest island team at the tournament to date.
Fiji has played both England and Australia, losing both by an average of 24.5 points. Playing in the "Pool of death" has its fair share of problems and it doesn't look to get any easier for them here.
Wales are the short-priced favourites at CrownBet.com.au, but Fiji are getting respected in the points start market and that's what our focus will be on.
Wales vs. Fiji points start market
Wales -15.5 – $1.90
Fiji +15.5 – $1.90
On face value and on wins to date, you would expect Wales to completely dominate this game in every facet, but Wales have their injury concerns and Fiji like to play with aggression.
Wales were already without star player Leigh Halfpenny for their clash against England, but now losing both Scott Williams [leg] and Hallam Amos [shoulder], there will have to be some serious reshuffling in the camp.
Winger George North says he is prepared to switch to centre to cover.
"If need be, I'll play centre," North said. "If need be, I'll play on the wing… that's the World Cup – you've got to adapt."
Many punters are expecting Wales to rest some of their players for the Fiji game, which will make the +15.5 line come down to around +12.5, but Welsh defense coach Shaun Edwards has said they are unlikely to rest "too many players."
That usually means they're going to be resting their main stars, which could make backing Fiji a very profitable move for this game. Taking a side that lost 11-35 to England and 13-28 to Australia might appear tough to do, but this Fiji side should be respected.
They have played both games with good heart and a fair amount of skill. Nemani Nadolo is a key player in the Fijian backline and he would make the starting 15 in most of the World Cup teams.
Unfortunately for Fiji, there are no easy teams in this pool and the likelihood of them winning a game this year is currently paying $6.50 at Sportsbet.com.au.
They would have, however, targeted this game as their best chance of winning prior to the tournament kicking off. It might not seem that way now, after Wales' surprise win against England, but Wales aren't exactly a world force in rugby so the chance of an upset is still valid.
We suggest staking Fiji (+15.5) – $1.90 and if Wales do rest some of their players, you are getting the early value with that line.
Wales vs. Fiji pick your own line
Our bookmakers often offer alternate lines, so punters can pick and choose their points start. This appeals to most bettors as they will happily take shorter odds for a vital point off.
The most commonly-bet alternate lines are -2.5, -6.5, -9.5, +3.5 and +7.5. These lines won't come into play for the Wales vs. Fiji game, but there are still some popular options to bet on.
Fiji lines:
+2.5 – $4.33
+5.5 – $3.30
+8.5 – $2.63
+11.5 – $2.10
+17.5 – $1.57
+20.5 – $1.40 at CrownBet.com.au
+23.5 – $1.30
+26.5 – $1.20
+29.5 – $1.14
The more points you want, the more you pay in price, but these lines are great for multi-bet punters.
With the current line at 15.5, punters can take the +20.5 for example and add it to their multi-bet ticket. They get lower odds of $1.40, but this can significantly increase your payout and there is much less risk involved with the bet.
Putting your faith in the Fijian rugby team probably isn't the way to get rich, but they have been a great bet against the spread this World Cup.
They covered both lines against England and Australia, so taking them with a little more insurance with an alternate start should see your bet cash.
Alternatively, if you think Wales will easily cover the -15.5 and you want more value, here are the pick your own line options.
Wales lines:
-17.5 – $2.20
-20.5 – $2.63
-23.5 – $3.10
-26.5 – $3.75
-29.5 – $4.50
Wales vs. Fiji exotic markets
Simply because we think Fiji are going to make a game of this, all our suggested options are going to be for Fiji.
The exotic betting markets for "1st and last to score" all have Fiji as outsiders in every market and punters could cash in with a bit of luck.
Betting always requires a bit of luck, so taking Fiji at good odds in all scoring markets could pay off if Wales don't start or finish the game very strongly.
Team to score first:
Wales – $1.45
Fiji – $2.64
Team to score first try:
Wales – $1.26
Fiji – $3.58
No try – $66
Team to score try last:
Wales – $1.33
Fiji – $2.88
Team to score last:
Wales – $1.33
Fiji – $2.88
We like Fiji in three of the four options provided here. Take the Fijians in every option except "team to score first try" and you should have a good chance of returning a profit.
It only takes a penalty kick to score first and the Fijians have kicked well throughout the tournament. Wales will most likely score the first try, but Fiji might pick up a consolation try to end the game.

Who: Australia vs. Fiji
When: Thursday, September 24, 1:45am AEST
Where: Millennium Stadium, Cardiff, Wales
THE Australian Wallabies kick off their 2015 Rugby World Cup campaign in Cardiff when they take on the upset-bound Fiji.
Australia is the last of the title hopefuls to play and will be looking to notch an impressive win against Fiji, which already caused England some problems.
The Wallabies haven't named their top side, but with their dominance over the Fijians in recent history, it doesn't surprise anyone that they can rest a few players for later in the tournament.
The head-to-head betting suggests Fiji have no chance, but the points start markets have been extremely popular this World Cup with so many of the underdogs covering the spread.
Australia vs. Fiji World Cup betting
Australia – $1.02 (-26.5) – $1.92 at Sportsbet.com.au
Fiji – $13 (+26.5)
It's highly unlikely that many people will be backing either Australia or Fiji on the head-to-head markets. The value, as it has done throughout this tournament to date, is with the points spread as it evens up the contest.
The 26.5 line is a big line and many people think Fiji are capable of sticking with Australia's second-rate side. Fiji have Super Rugby player Nemani Nadolo who is a force on offense and his counterpart Rob Horne is giving away plenty of size.
In the past, Australia have had no problems covering big spreads against Fiji, but the World Cup loves to throw in upsets and Fiji are the best of the island teams.
Sportsbet.com.au have bee gracious enough to offer $1.92 lines for both teams, which is better than the $1.87, $1.90 and $1.91 lines other bookmakers are offering.
The most popular option so far has been Australia 13+ at $1.20. The line might be short, but punters are considering it a 'lock' and throwing it into their multi-bets.
The halftime points start markets have been popular as the lesser-fancied sides have been putting up very good 40-minute performances. In this case, the Fijians are getting +11.5 at the halftime break, but punters usually see a trend as the tournament progresses.
The minnows start the tournament strong, but as the players get tired and their schedule gets more testing, those same teams start to fall off the radar.
Fiji encountered a tough battle against England and that might have taken the stuffing out of them. We expect Australia to start strong and even though they might be a touch rusty, they should be too classy for the Fijians.
Australia vs. Fiji form and past performances
Australia and Fiji have played each other only five times in the last 30 years. Australia has won all five and if we were using the points spread line of 26.5, Australia would have covered in four of those five games.
Their most recent meeting came in 2010 where Australia romped home 49-3. These two sides also met at the 2007 Rugby World Cup where Australia were again easy winners 55-12.
In the 1999 World Cup, Australia scored 66 points to Fiji's 20 which would suggest the line of 26.5 is an easy cover for the Wallabies.
Over the course of history, Australia has won 16 from 19 with one draw and the statistics are relatively one-sided.
Over the 19 games, Australia has a points differential advantage of 325 points with a try-scoring advantage of 57 tries.
Fiji do bring good form into this clash, having lost only one of their last five games. They have drawn with Samoa, defeated Japan 27-22 (which has recently beaten South Africa), beaten Samoa 39-29 and they scored a very easy win against Canada 47-18.
The 11-35 loss to England was better than it looked as their fitness gave away late. Fiji were in that game till the 60-minute mark and they are a live chance if they can muster enough energy to play the up-tempo Wallabies.
The Wallabies scored an easy 47-10 win over the U.S to warm up for the World Cup, which came after the All Blacks embarrassed them 13-41 at Eden Park to win the Bledisloe Cup.
The Rugby Championship winners did show good form prior, beating New Zealand in Sydney and scoring wins against Argentina and South Africa.
Based on past performances, Australia should have no problem winning this game with ease.
Australia vs. Fiji first tryscorer market
Take a first tryscorer bet with Sportsbet.com.au and if your selected player scores second or third, you will get a refund up to $100.
Australia:
Israel Folau – $6 at Sportsbet.com.au
Rob Horne – $7.50
Adam Ashley-Cooper – $7.50
David Pocock – $11
Tevita Kuridrani – $11
Matt Toomua – $12
Kurtley Beale – $12
Matt Giteau – $12
Nick Phipps – $15
Will Genia – $15
Dean Mumm – $17
Michael Hooper – $17
Stephen Moore – $19
Bernard Foley – $21
Will Skelton – $23
Scott Fardy – $23
Tatafu Polota-Nau – $23
Sekope Kepu – $26
Kane Douglas -$26
Rib Simmons – $26
Scott Sio – $34
James Slipper – $51
Greg Holmes – $51
Fiji:
Waisea Nayacalevu – $19
Metuisela Talebula – $19
Nemani Nadolo – $21 at CrownBet.com.au
Asaeli Tikoirotuma – $23
W Goneva – $26
Niko Matawalu – $26
Josh Matavesi – $34
Netani Talei – $34
Mala Ravulo – $41
Nemia Kenatale – $41
Gabriele Lovobalavu – $46
Akapusi Qera – $46
Leon Nakarawa – $56
Ben Volavola – $56
Peceli Vato – $81
Viliame Veikoso – $81
Isei Koliavu – $101
Peni Kovekalou – $101
Manasa Saulo – $101
Campese Ma'afu – $101
Tevita Cavubati – $101
T Talemaitoga – $101