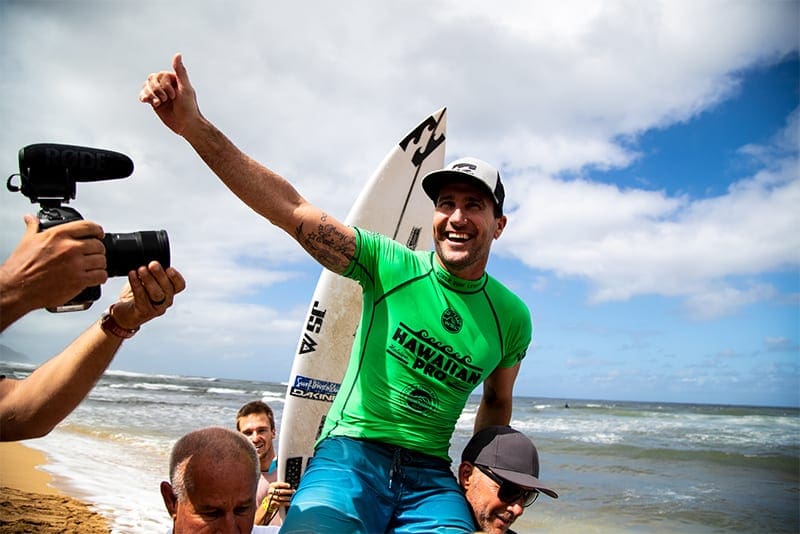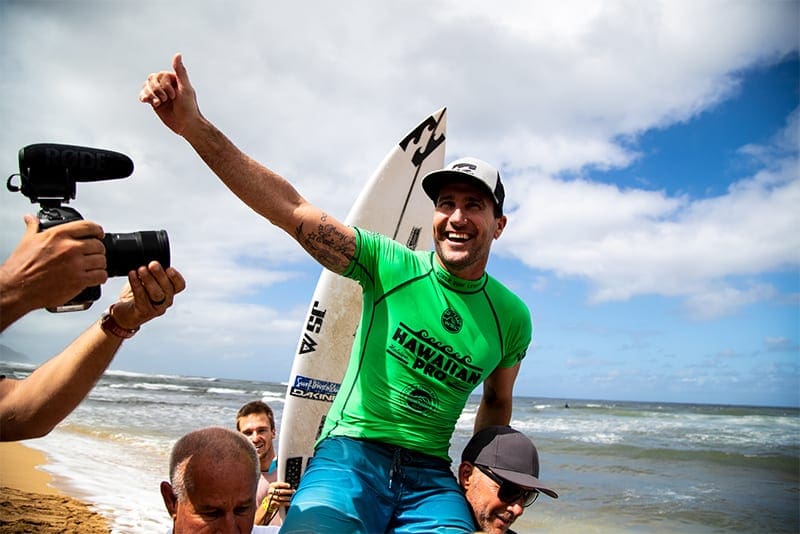 2012 World Champion Joel Parkinson (AUS) was a vision of classic power surfing today at the Hawaiian Pro and earned the event win for the second time in his professional career.
The Australian is now the front runner for the 36th Annual Vans Triple Crown of Surfing (VTCS) title after besting a dynamic Final field that included Mateus Herdy (BRA) who earned runner up, Ricardo Christie (NZL) who finished third and Deivid Silva (BRA) in fourth.
Parkinson will compete next at the Vans World Cup of Surfing, the final World Surf League (WSL) Qualifying Series (QS) event of 2018 and a Men's QS 10,000, in his hunt for a fourth VTCS title after he won the series three consecutive times in 2008, '09 and '10.
The Final was an incredible clash of classic surfing versus progression, old school versus new school, as Parkinson, 37, and Herdy, 17, went head to head with high scoring rides. The waves turned on for a rapid-fire exchange among all finalists, and spectators were treated to a variety of power carves, barrels and aerial maneuvers throughout the 35-minute heat at Haleiwa Ali'i Beach.
GUIDE: BEST BETTING SITES FOR SURFING
Parkinson got off to a strong start with a beautiful opening turn followed by another arcing carve for a 7.50, but Herdy answered back with an 8.83 after an impressive tailslide on his closing hit. Each finalist earned excellence as mother nature provided an onslaught of waves and by midway through the heat, it was anyone's day. Christie's best wave, an 8.40, was for a wrapping first turn into a tail slide followed by a quick barrel, while Silva jumped on the biggest wave of the Final and powered out an 8.53 for a big vertical snap on his first turn.
The win inevitably became Parkinson's after he nailed a near-perfect 9.33 with a combination of smooth maneuvers on a frothy wave face and then an 8.03 to put a stamp on his domination with timeless power surfing. The 2018 Hawaiian Pro marks his first win since 2013 and final competitive appearance at Haleiwa.
"Oh man, I'm just shocked, I just started to feel it, I feel like I want to surf another heat," said Parkinson atop the awards stage. "I actually really enjoyed the event, that's probably been the key for me at this stage of my career, to enjoy it. That was enjoyable. I'll miss moments like that but I'm glad they're coming to an end."
Parkinson will surf his final event of his career during the Billabong Pipe Masters, which is the last stop on the WSL Championship Tour (CT) and culminating competition of the VTCS. The holding window is December 8 – 20 and will take place at the North Shore's infamous Pipeline at Ehukai Beach Park.
"Thank you everyone here in Hawaii that lends us the beach and lets us enjoy it and the waves, I really appreciate it," Parkinson continued. "Hawaii is a special place to us all. For years to come I think we'll be back and enjoying these waves… If this is the last time I ever stand on stage, surfing has been amazing to me. I love it. Next year I'll just be a surf fan like all you guys, can't wait. I'll always love surfing, I'll always love the people in surfing and I thank you all for being a part of it and cheering me on! Come December 21, I'm a surf fan and I'll watch and enjoy watching."
Herdy was among the youngest in the 128-man draw and made it to the podium all the way from Round 1. Today's runner up finish boosted him 49 spots up the QS rankings, from No. 61 to No. 12, and with another solid result at the Vans World Cup, he could be one of the year's biggest qualification stories.
"I don't know it feels better than the win I think, I just came here to win some heats and I'm in the final against my idols," Herdy said. "Thanks to the Brazilians and everyone here on the beach!"
Mateus Herdy looked confident in the challenging conditions and demonstrated some of the day's best high-performance surfing. Credit: © WSL / Keoki
Hawaiian athlete and QS crusader, Seth Moniz (HAW) had a dream run today after advancing to the Semifinals, taking home 5,100 points and officially qualifying for the 2019 CT.
"People were congratulating me, saying I got the points but it never really sunk in yet," said Moniz. "I knew I wasn't going to be excited until I heard it on paper and saw it on paper. If I didn't have this guy, (Rainos Hayes) with me all year round – we did it together. Super stoked."\
Seth Moniz, the newest Hawaiian to join the 2019 Championship Tour. Credit: © WSL / Heff
Moniz is now safely in the No. 2 spot on the QS behind Kanoa Igarashi (JPN), who will double qualify for next year's CT. In today's competition, Moniz stuck to the fundamentals, but is widely known for his progressive style and aerial mastery. A regular-footer from Honolulu, Moniz will add today's historic moment to the chapter book of his family's legacy.
The highest wave score of the day, a 9.37, went to Patrick Gudaduskas (USA) in Semifinal 2. Wave selection was crucial in the challenging conditions and Gudauskas was able to pull out the near-perfect ride for a massive first gouge followed by two more powerful turns. The La Jolla local will need to forge his way to a Semifinal finish at the Vans World Cup or a Quarterfinal result at the Billabong Pipe Masters for a chance at requalification, but given his prowess throughout the Hawaiian Pro and track record at Sunset, this is achievable for the athlete.
Gudauskas was eliminated in the Semifinal despite earning a massive 9.37 score. Credit: © WSL / Heff
The VTCS now swings to Sunset Beach for the Vans World Cup of Surfing, which has a holding window from November 25 – December 6. In its 44th year of running, the Vans World Cup will showcase more of the world's best athletes as they tackle one of the best and most consistent big wave breaks on the planet.
Each event of the 2018 Vans Triple Crown of Surfing will run on the four best days of surf within the event's holding window. LIVE streaming is available on WorldSurfLeague.com, VansTripleCrownOfSurfing.com, Facebook.com/wsllive and the WSL and Facebook apps (Facebook login required for mobile viewing). Or tune into Spectrum SURF Channel, which will televise the action LIVE and in replay on digital channels 20 and 1020HD, across the state of Hawaii.
Hawaiian Pro Results
Final
1st – Joel Parkinson (AUS), 17.36
2nd – Mateus Herdy (BRA), 15.83 (8.83 + 7.00)
3rd – Ricardo Christie (NZL), 15.83 (8.40 + 7.43)
4th – Deivid Silva (BRA), 15.36
Semifinal
(1st and 2nd advance, 3rd = 5th place, 4th = 7th place)
SF1: Mateus Herdy (BRA), Ricardo Christie (NZL), Jesse Mendes (BRA), Seth Moniz (HAW)
SF2: Deivid Silva (BRA), Joel Parkinson (AUS), Leonardo Fioravanti (ITA), Patrick Gudauskas (USA)
Quarterfinal
(1st and 2nd advanced, 3rd = 9th place, 4th = 13th place)
QF1: Seth Moniz (HAW), Jesse Mendes (BRA), Miguel Pupo (BRA), Bino Lopes (BRA)
QF2: Mateus Herdy (BRA), Ricardo Christie (NZL), Filipe Toledo (BRA), Kanoa Igarashi (JPN)
QF3: Deivid Silva (BRA), Leonardo Fioravanti (ITA), Soli Bailey (AUS), Jordy Smith (ZAF)
QF4: Patrick Gudauskas (USA), Joel Parkinson (AUS), Jack Robinson (AUS), Jake Marshall (USA)


The 36th Annual Vans Triple Crown of Surfing fired into action on opening day of the holding window, as Round 1 of the Hawaiian Pro saw North Shore standouts like Kiron Jabour (HAW), Finn McGill (HAW) and Mason Ho (HAW) claim their stake in Round 2 alongside international Qualifying Series (QS) hopefuls Victor Bernardo (BRA), Noe Mar McGonagle (CRI) and Adin Masencamp (ZAF).
The Hawaiian Pro is a World Surf League (WSL) Men's QS 10,000 event and will count toward 2019 Championship Tour (CT) qualification, plus give an early lead on the Vans Triple Crown of Surfing (VTCS) Champion title.
Jabour is riding high with confidence after his recent win at the HIC Pro Men's QS 3,000, which took place at Sunset Beach as the local qualifying event for the VTCS, and easily surfed his way into first advancing position with a combined heat total of 11.00 (out of a possible 20). He applied keen wave selection while tallying four waves and earned the highest score of the heat, a 6.50, utilising stylish and committed surfing.
GUIDE: BEST BETTING SITES
Jabour's win on home turf instilled a renewed confidence in the surfer after a year of competing on the QS with mediocre results. Ahead of the Hawaii season, he spent time in Portugal and enjoyed preparing for an above-average winter of waves, which is expected thanks to a trending El Niño weather pattern.
"(Portugal) is great practice for over here with all the reef breaks, I got to paddle Nazaré before I came here and I got to even feel a big board, big energy," Jabour said.
"It's perfect pre-season for the winter over here. I love it." He and Big Island athlete Torrey Meister (HAW) will surf in Round 2 once competition resumes.
Brazil's Victor Bernardo posted the day's highest single wave score, an 8.33 for excellent power surfing in Round One Heat 9. Bernardo attacked his final wave of the heat with a solid snap off the top and then flowed into a big, wrapping turn and completed the ride with a committed closing maneuver. He and fellow advancing competitor David Van Zyl (ZAF) eliminated two local athletes – Noah Hill (HAW) and Sheldon Paishon (HAW) – on their hunt for points and prestige.
Bernardo arrived early to Hawaii for a competitive warm up at the HIC Pro; 2018 marks his third consecutive showing in the VTCS. Currently ranked No. 67 on the QS, he will improve his standings if he can maintain rhythm and forge a strong finish at the Hawaiian Pro.
"I just try to come here and stay as long as I can and surf here, get used to the waves," Bernardo said. "It's way more powerful and it gets bigger, I'm not used to that in Brazil so I always take advantage of the opportunity to come here."
Freshly crowned 2018 WSL Hawaii/Tahiti Nui Regional QS Winner, O'Neill Massin (PYF), moved onto the next round after advancing behind Jack Robinson (AUS) in an internationally mixed, competitive heat. Robinson was able to secure two mid-range scores – a 5.17 and 6.33 – while Massin earned second after scoring a 6.07 on his final ride. Massin won the regional QS circuit at the HIC Pro after a runner-up finish to Jabour, which was his goal for 2018, and now looks forward to enjoying his time competing in the VTCS.
"I feel confident, just have fun, no pressure," Massin said.
"I did my job, I said my goal was the regional, so I'm stoked to be here in Haleiwa and in the Triple Crown… I think for next year my goal will be to win the Triple Crown and qualify for the CT."
Robinson displayed a well-rounded repertoire today and switched up his usual big wave game with the smaller surf on offer at Haleiwa. With good wave selection and consistency, Robinson moved one step closer to his ultimate goal.
"That's the whole goal is to get to the tour," Robinson said.
"When I come here and see these two events, get to the end of the year, I can't do anything else other than just go out and surf, and that's when I do my best. Just go out and try to find the best waves and let it all go from there. Whoever gets the best waves gets to show what they've got and that's who you're sparring against. Can't do much else other than just surf, that's what it's all about in these events for me."
Many athletes took to the air in the ramp-like waves today, but the flying standout was Tahiti's Mihimana Braye (PYF) who earned a 7.00 on a tail-high air reverse – his highest and cleanest aerial manoeuvre of Heat 4.
"I've been training at my home break of Papara and the left is kind of similar to this," Braye said.
"I'm feeling confident, I have some good boards, my DHD works good. I'm feeling good and can't wait for the next one." Braye went against a stacked heat that included Hawaiian phenom Mason Ho (HAW), Maui's upstart Cody Young (HAW) and Gatien Delahaye (FRA).
"It was a hard one actually, first heat is always the hardest one," Braye continued.
"You want to get your rhythm going so I'm pretty stoked to make this heat. I felt a little bit stressed at the beginning catching some waves, but after I was like, 'okay I need to go for it. I need to boost if I want to get some scores.' It's a 10,000 so you have to step up your game and show your real level."
Hawaiian Pro Results
Athletes listed in 1st through 4th
Round 1 (1st and 2nd advance, 3rd = 97th place, 4th = 113th place)
H1: Jeronimo Vargas (BRA), Mateus Herdy (BRA), Lahiki Minamishin (HAW), Leandro Usuna (ARG)
H2: Liam O'Brien (AUS), Ramzi Boukhiam (MAR), Luel Felipe (BRA), Eala Stewart (HAW)
H3: Finn McGill (HAW), Lucas Silveira (BRA), Flavio Nakagima (BRA), Ocean Macedo (HAW)
H4: Mihimana Braye (PYF), Mason Ho (HAW), Cody Young (HAW), Gatien Delahaye (FRA)
H5: Elijah Gates (HAW), Kei Kobayashi (USA), Imaikalani deVault (HAW), Koa Smith (HAW)
H6: Jacob Willcox (AUS), Benji Brand (HAW), Joh Azuchi (JPN), Kainehe Hunt (HAW)
H7: Santiago Muniz (ARG), Noe Mar McGonagle (CRI), Kekoa Cazimero (HAW), Ragael Teixeira (BRA)
H8: Adin Masencamp (ZAF), Aritz Aranburu (ESP), Ulualoha Napeahi (HAW), Ian Gentil (HAW)
H9: Victor Bernardo (BRA), David Van Zyl (ZAF), Noah Hill (HAW), Sheldon Paishon (HAW)
H10: Joshua Burke (BRB), Oney Anwar (IDN), Beyrick De Vries (ZAF), Vehiatua Prunier (PYF)
H11: Kiron Jabour (HAW), Torrey Meister (HAW), Logan Bediamol (HAW), Tomas Tudela (PER)
H12: Skip McCullough (USA), Jackson Baker (AUS), Cole Alves (HAW), Jamie O'Brien (HAW)
H13: Jack Robinson (AUS), O'Neill Massin (PYF), Marco Fernandez (BRA), Michael O'Shaughnessy (HAW)
H14: Makai McNamara (HAW), Shayden Pacarro (HAW), Wiggolly Dantas (BRA), Reo Inaba (JPN)
H15: Cooper Chapman (AUS), Tereva David (PYF), Kalani Ball (AUS), Dylan Lightfoot (HAW)
H16: Ian Crane (USA), Noa Mizuno (HAW), Evan Valiere (HAW), Davey Cathels (AUS)