AUSTRALIA gave retiring captain Michael Clarke a strong sendoff on Sunday, wrapping up the fifth Ashes Test on day four to win by an innings and 46 runs.
That result made it 3-2 to England for Ashes 2015 – a somewhat flattering scoreline for both sides, in truth, as it fails to illustrate how one-sided each of the five matches were.
But that will matter little to those canny punters who backed the hosts early on to take the series, in a futures market that was paying $5 odds at WilliamHill.com prior to the first Test.
Also smiling will be those who picked Joe Root to take out the Man of the Series award.
The Yorkshire strokemaker finished behind Steven Smith (508 runs) and Chris Rogers (480 runs) on the overall batting charts, but his two centuries and two fifties came at key moments throughout a campaign in which England's top order often struggled.
Root offered little in the closer at The Oval, however, and it was Smith ($11 at Bet365) who claimed the Man of the Match award after his first-innings 143 – his second ton of the series – set the Aussies on their way.
But Australia's Man of the Series was the ultra-consistent Rogers ($12 at Bet365.com), who bid farewell to Test cricket with six scores of 40+ (including one century and three half-tons) in nine Ashes innings.
And while the door closes for the one they call 'Buck', it may have reopened for his Victoria teammate Peter Siddle.
The former mainstay of the Aussie attack excelled in his only Test of the series, taking six wickets at an economy rate of just 1.9 runs per over – a much-needed counterpoint to the deadly, yet erratic Mitchell Starc and Mitchell Johnson.
Many observers – including the man himself – thought Siddle's international was all but over after he was left out for Trent Bridge, but he now has a chance to reestablish himself in a bowling unit that sorely misses the hustle and consistency of the retired Ryan Harris.
He may well be favoured for October's tour of Bangladesh over Pat Cummins or Josh Hazlewood, who missed the fifth Test with soreness in his shins.
Clarke flops on farewell, slams English pitches
There was to be no individual grand finale for Michael Clarke, who made only 15 to close a miserable tour in which he managed just 132 runs at an average 16.50 – the worst record of any Aussie batsman (except tail-ender Nathan Lyon) who played all five Tests.
Online bookmakers Sportsbet and CrownBet.com ran a collection of Ashes specials for Clarke's last Test, but 'Pup' never even threatened to score a fifty, a century, or beat incoming skipper Steve Smith in the player head-to-head markets.
Nor did he mimic the great Sir Donald Bradman by ending his career with a duck at The Oval – a scenario, which was paying $17 odds at CrownBet.
The departing skipper finished his four-year tenure with a mixed legacy in Ashes cricket, with the 5-0 whitewash of 2013-14 bookended by two rather tame defeats away from home.
And after a tour in which not one Test match made it to a fifth day, Clarke offered some form of excuse by suggesting the England hierarchy had too much control over pitch conditions from venue to venue.
"I'd like to see groundsmen around the world – not just here – have the courage to go with what they think is a good cricket wicket," he told the press after the match.
"I think we've seen in the first two Test matches a lot of talk from the media and the commentators… about how flat the wickets were, yet those two Test matches were over in four days. One team won and one team lost. The next three are over in two and a half and three days.
"I think Test cricket is a five-day battle. I want to see good and fair cricket for both batters and bowlers. I think that's the way the game should be played – and, most importantly, I want to see a winner and a loser.
"But if the groundsman feels he knows how to produce a good wicket that will be a great battle of Test match cricket then I'd like to see them back themselves and go with that and not be persuaded by what's said in the media or what the commentators say."
Clarke also insisted that a home captain and coach would never be allowed to coerce and cajole Australian pitch curators the way Alastair Cook and Trevor Bayliss have allegedly done with the English ground staff this series.
"I don't know what influence the ECB had… and to be honest I don't know what influence they [Cricket Australia] have in Australia either," he said.
"If I go to the groundsman at the Gabba and say 'I want it to be a turner like the SCG' he'll absolutely laugh at me. It might be different around the world.
"You're given a role, a responsibility, and a job and you want to be able to do your best at that. I've got a feeling, from the conversations I've had with a lot of the groundsmen in this country, they're a little bit disappointed they haven't been able to do as they've wanted to do."
Cook urges 'wonderful' Bell to stay on
Another Ashes stalwart who may well have played his final Test series is Ian Bell, who now joins Ian Botham as one of only two England players to have won the urn five times.
After an inconsistent 12 months or so with the bat in all forms of the game, the 33-year-old is said to be umming and ahhing over whether or not to call time on his career before the upcoming tours to the UAE and South Africa.
Alastair Cook, however, believes Bell still has plenty to offer an England side which is high on potential but perhaps a little short on Test experience.
"He still has a big part to play," the England captain said in the post-match press conference at the The Oval.
"He's an absolutely wonderful player; a class player. I haven't actually heard exactly what Belly has said but he's a class player and I hope he's around for a few more years.
"I think it's such an emotional time over the last 10 days in terms of emotional highs and what we've just experienced – and everyone is pretty tired – that what you say in an interview now might not be what you believe deep down."
Cook had hoped to become the first skipper in England's history to secure a 4-1 Ashes victory on home soil, but he admitted that he and his charges struggled to find the same kind of energy that fuelled their series-winning performance at Nottingham.
"Maybe we underestimated the emotional high from Trent Bridge and how hard it would be to get back up to that level you really need to be at to beat Australia," said Cook.
"Of course we'd love to be sitting here at 4-1 rather than 3-2. We were off the pace in this game.
"You can kind of understand it. All the time [at the pre-series training camp] in Spain it was about winning three games. The mind has such a powerful effect on you as a player. It's a little bit disappointing but I'm not going to worry about it, to be brutally honest."

LOVE him or hate him, Michael Clarke is one of the finest cricketers of his generation.
Australia's 43rd Test captain, who last week retired after the Australians' embarrassing innings and 78 run loss to the English in the fourth Ashes Test, whacked 8626 runs across his career, which is good enough for fourth most by an Australian all time.
He cracked 151 on his Test debut, the fifth highest total by a debutante in test history and has a highest score of 329 against bitter enemy India – the fifth highest score by a Test captain.
His 1595 runs in the 2012 calendar year were the most by an Australian and the fourth most all time, and came at an average of 106.33. He made four double centuries that year – the most in a calendar year ever.
Those are glittering numbers.
But more recently, times have been tough.
He's past the fifty mark just once in his past 11 innings and averages just a tick over 16 this Ashes series.
He fell on his sword after the debacle at Trent Bridge and, despite his stacked resume, copped it from many sides in the days after.
He was forced to defend his captaincy after former players claimed he was unable to bring the team together off the field, labelling allegations of player unrest as "a load of s***."
"When you don't perform there's always going to be Chinese whispers and 'he says, she says'," Clarke said.
"At the end of the day the players are the ones who walk onto the field, we have to perform and we haven't performed well enough.
"I can guarantee you the feeling in this group is exceptional.
"There's no disharmony in this group whatsoever.
"The players are as tight as any team I've been a part of.
"Travelling in different cars? What a load of s***.
"Wives and girlfriends being on tour is a distraction? What a load of s***.
"That's absolute garbage.
"I'll give back 10 of my Test hundreds if it wasn't for my beautiful wife, Kyly.
"The amount of happiness and joy that she brings to me is a massive part in pushing me to get me out of bed to try and be the best player I can be.
We tend to agree with him, so we've decided that there's been enough negative press and we want to celebrate his career by taking a look at some of Clarke's greatest Test innings.
The great man deserves a medal for some of these performances and we hope we hope he goes out with a bang at the Oval next week.
161* vs South Africa, Newlands, Cape Town, 2014
One of the toughest innings you will ever see from a Test cricketer.
Clark got the mother of all working overs from towering Proteas seamer Morne Morkel.
The barrage was one of the most hostile in recent memory, but the dogged captain would not be budged.
One of the knocks on Clarke had always been that the rock star lifestyle, flashy cars and fast women had made him a bit soft and susceptible under fire.
This innings would put that to rest.
People still talk about the day Clarke survived Morne Morkel.
128 vs India, Adelaide Oval, Adelaide, 2014
Yep, 128 would seem like just another routine score for a guy who had whacked century after century in his long Test career.
That's until you look at the circumstances.
This century came one week after Clarke farewelled fallen friend Phil Hughes, who was tragically killed when hit on the neck by a bouncer during a shield game.
It rocked the cricket world to its core and could have been the catalyst for a ruined Australian summer.
And no one would have blamed the emotionally scarred Aussies if it did.
But Clarke wasn't having it.
He delivered the Eulogy at a tearful service for Hughes just a week before he walked out on the Adelaide Oval to confront the Indians.
And it would become one of the most iconic cricket innings of all time as he looked to the sky to honour his mate, having gone through two days of chronic back pain that had forced him to retire hurt on 60.
He returned on day two and, battling the pain and the inner demons of his mates untimely passing, made it to 128 before he was dismissed.
It's arguably the toughest emotional innings ever played and it won him even more fans.
If there were still questions about his toughness, they were dispelled on this day as he did it for Phil.
151 vs South Africa, Newlands, Cape Town, 2011
We'll just forget the Aussies were routed for just 47 a day after this innings.
But Pup's 151 at Newlands was one of the grittiest innings you will ever see. None of the Australian bats could get going in trying conditions, but Clarke would not be denied.
He slammed 22 boundaries in an innings that featured just 36 and tried to throw the nation on his back in the face of a world class pace attack of Dale Steyn, Vernon Philander and Morkel.
They couldn't get to him, like they did the other Australian bats and it became another feather in his cap.
329* vs India, SCG, Sydney, 2012
His highest Test score in a calendar year where he reeled off more runs than any other Australian before him.
Clarke is one of just five Aussies to hit a triple century and it was fitting that it came against a side that he had such a bitter rivalry with.
Never a fan of the Indians, Clarke would have taken great joy in plundering them all over the Sydney Cricket Ground in front of his home deck fans.
You might not remember, but the Aussies were in trouble at 3/37 when he came to the crease.
But that clearly mattered little as he put the Indians to the sword, eclipsing their first innings total off his own bat.
151 v India, M Chinnaswamy Stadium, Bangalore, 2004
This kid was always going to be a future Test captain.
The young buck with the good looks and the talent to die began his love affair with the Indians with a debut century that would write him into the record books.
Coming up against Indian spin twins Harbahajan Singh and Anil Kumble – both pathologically competitive beasts, Clarke reeled off a superb 151 that featured 18 fours and four sixes, announcing himself to the cricket world as the next big thing.
His mastery of spin would become a feature of his career.
259* vs South Africa, Gabba, Brisbane, 2012
Yep, 2012 again.
And South Africa.
Notice a pattern yet?
Clarke added to his legendary 2012 season with a double ton after striding to the crease with the Australians teetering at three for 40 odd.
It was not unlike his triple ton against the Indians, except it didn't reach those heights, but would still become his second highest score and help etch himself into the record books for his performance across the calendar year.
Clarke smashed 26 boundaries in the innings and didn't give a chance.
230 v South Africa, Adelaide Oval, Adelaide, 2012
Another day, another double ton in 2012.
Seriously, the cricketing Gods must have been smiling on Clarke that year.
The best bowling attack in the world was again put to the sword by a devastating Clarke innings.
Again, he as forced to the crease with Australians on the brink, this time at 3/55.
And again he provided the answer.
The double century came on the opening day of the Test and featured 40 boundaries and one six.
It came off just 220 balls against the best bowling attack in the world and it looked effortless.
Probably his signature inning for pure batting flair and speed of scoring.
Morkel will never forget being whacked for four five times in an over and neither will we.
136 v England, Lord's, London, 2009
Since he's about to play his last Test against England, we'll sign off with a classic against the Poms.
The Aussies were terrible on this tour in 2009, handing England the Ashes.
But it wasn't for lack of effort on Clarke's behalf.
English seamer Freddie Flintoff was in the form of his life and the Aussies were set a chase of 522.
It looked possible with Clarke at the crease, the hardening youngster buckling down to negotiate 136. But he fell early on the last day and that was all she wrote for the Australians.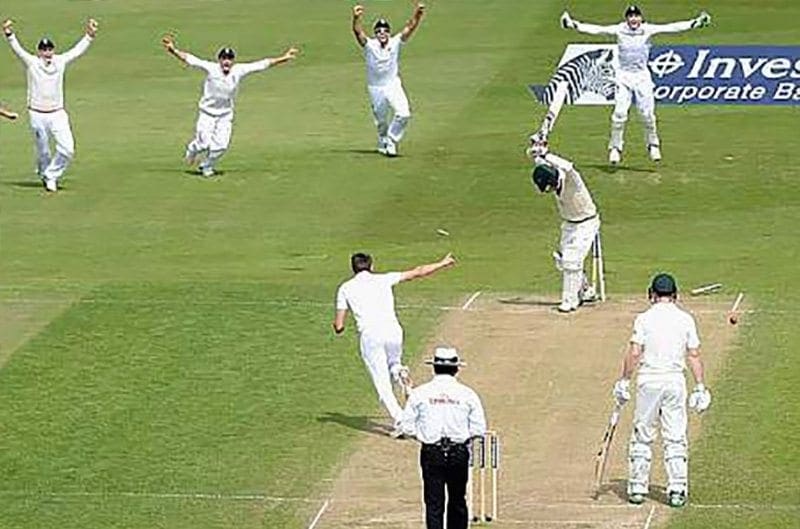 Fifth Test – starts 11:00am local time on Thursday, August 20, 2015 at Kennington Oval, London
England – 2.30 at CrownBet.com
Draw – $4.50 at Sportsbet
Australia – $2.62 at www.Bet365.com
Bruised, battered and thoroughly humbled, Australia will be playing for pride alone when the final Test of Ashes 2015 kicks off this Thursday at The Oval.
Online bookmaker CrownBet has the tourists at $2.62 odds to win the dead rubber in what will be Michael Clarke's last appearance in international cricket.
Cricket Australia has announced that Steve Smith will assume the Test captaincy at the conclusion of the Ashes series, with the opinion-splitting David Warner stepping up as vice captain in what many see as a somewhat daring appointment.
Should the Aussies see off Clarke in the kind of style he deserves, a 3-2 series scoreline would flatter a side that was utterly obliterated by England at both Edgbaston and Trent Bridge.
They also struggled in their recent tour match against Northamptonshire, with late runs from Pat Cummins (82*) and Nathan Lyon (41) saving the Australians from an embarrassing defeat at the County Ground.
There were red faces among the selectors nonetheless after another impressive performance from Mitchell Marsh, who tore through the Hants top order with four wickets for 56 before racking up 68 with the bat.
The West Australian allrounder was dropped for the fourth Test in favour of his brother, Shaun, who managed a grand total of two runs for the match in the number four slot.
Australian head coach Darren Lehmann admitted after the Nottingham debacle that the selection panel had made a huge blunder in switching the Marshes, so Mitch is expected to reclaim his spot for the fifth Test in London.
Cummins, who cleaned up the tail with three wickets at Wantage Road, could also come in for just his second Test appearance, with Josh Hazlewood a chance to miss after indifferent displays at Birmingham and Notts.
England ($2.30 at CrownBet), meanwhile, probably won't change much as they look to put the finishing touches on yet another successful Ashes series on home soil – their fourth in a row since 2005.
And as the hosts have never won more than three Tests in an Ashes series on their own patch, you can bet Alastair Cook and company will keep their feet firmly on the gas as they look to make it 4-1.
The England captain said in a recent interview that he was uncertain of his future before the 2015 Ashes, but that no such doubts linger any longer as he aims to make history at Kennington.
Asked whether he would continue as skipper, Cook told the Daily Mail: "I pretty much decided last Sunday.
"I woke up and immediately started thinking about trying to win the Ashes 4-1 and then about what we will have to do to win against Pakistan.
"It came quickly to me to start planning ahead and that told me that I probably wanted to carry on a bit longer.
"It absolutely has been on my mind. At the start of this summer I didn't know what was going to happen and I wasn't sure if I would continue beyond the Ashes.
"But while you've still got the opportunity to be England captain and you've still got more to give, which I now feel I have, then you need to carry on and give it your all."
Cook's bid for an historic 4-1 Ashes win could be bolstered by the return of veteran seamer Jimmy Anderson, who missed the third and fourth Tests after suffering a side strain during England's loss at Lord's last month.
Anderson's fitness could mean a tough call over whether to keep Mark Wood or Steven Finn, both of whom have provided some quality support for man of the series Stuart Broad.
The only other major selection issue for the Three Lions is the second opener's slot, as Adam Lyth has scored a paltry 86 runs at 12.28 in seven innings this series.
2015 Ashes squads
England: Alastair Cook (C), Moeen Ali, James Anderson, Jonny Bairstow, Ian Bell, Stuart Broad, Jos Buttler, Steven Finn, Adam Lyth, Adil Rashid, Joe Root, Ben Stokes, Mark Wood.
Australia: Michael Clarke (C), Fawad Ahmed, Pat Cummins, Brad Haddin, Josh Hazlewood, Mitchell Johnson, Nathan Lyon, Mitchell Marsh, Shaun Marsh, Peter Nevill, Chris Rogers, Peter Siddle, Steven Smith, David Warner, Shane Watson, Adam Voges.
Fifth Test match predictions
Match result – England to win ($2.30 at CrownBet)
Draw no bet – England ($1.80 at www.Luxbet.com)
Highest opening partnership – Australia ($1.80 at Sportsbet)
While Australia may be more competitive here than in the last two Tests, it's hard to ignore a confident England outfit which still has plenty to play for – namely, that elusive 4-1 scoreline.
Joe Root is one of the best bats on the planet right now, Stuart Broad is in the form of his life, and the whole camp is full of rare confidence and purpose.
The forecast is cloudy but dry in Surrey from Thursday onwards, so a draw seems unlikely in a series where no Test has lasted longer than four days.
If there is some unexpected wet weather, or if the Kia Oval pitch proves as batter-friendly as the Lord's one did, $1.80 match odds on a draw no bet for England is pretty good value.
There's some good money to be had on the Aussies, too – for even though Ali Cook is in fine spirits, you have to back the excellent Chris Rogers and Dave Warner to continue their tandem act at the top of the Australian order.
Top team batsman betting
England – Joe Root ($3.75 at William Hill)
The 24-year-old Yorkshiremen leads all comers with 443 runs in Ashes 2015, including two centuries and two fifties. He is England's best player – and the world's top Test batsman, according to the ICC rankings – so he has to be your first option to lead the hosts' run-making efforts at The Oval.
Australia – David Warner ($4.50 at Luxbet.com)
While never quite hitting his highest notes, Australia's pugnacious southpaw has been a rare consistent performer with four half-centuries this series. Buoyed by his appointment as vice captain, we could see Warner really unleash as the visitors seek to salvage some pride at the last.
Best value bets for most wickets
England – Stuart Broad ($3.50 at Bet365)
While he's been a fine cricketer for many years now, few could have predicted just how much damage Broad would inflict upon the Baggy Greens this English summer. His eight wickets for 15 in the first innings at Trent Bridge ranks among the all-time great Ashes bowling displays, while his series tally of 21 scalps at 18.09 makes him the obvious favourite to keep knocking over Aussie batsmen.
Australia – Mitchell Starc ($3.60 at www.Bet365.com)
None of the Aussies' much-lauded quicks have shown any sustained form on this tour, but limited-overs specialist Starc has been the most dangerous, the most often. With talk that Hazlewood might sit out for Cummins, Starc – who has 18 Ashes wickets at a 39.4 strike rate – looks the best bet at Kennington.
Michael Clarke specials markets
Two of the best 2015 Ashes betting sites, CrownBet.com and Sportsbet.com, are running a stack of Test match specials to celebrate Michael Clarke's final appearance for Australia. Here are some of the hottest cricket props and exotics for Pup's last stand:
To 'do a Bradman' and make a first innings duck – $17 at CrownBet
To finish his career with a 50.00+ batting average – $21 at CrownBet
To score a fifty in the match – $1.60 at Sportsbet
To score a century in the match – $4.50 at Sportsbet
To score a double century in the match – $21 at Sportsbet
To score a triple century in the match – $81 at Sportsbet
To outscore new captain Steve Smith head to head – $2.40 at CrownBet
To take a wicket in the match – $7 at CrownBet
To hit a six in the match – $2.75 at Sportsbet
To score a century, hit a six, take a catch and take a wicket – $67 at Sportsbet