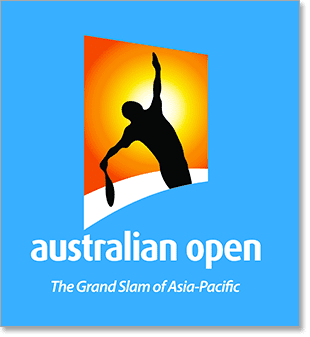 THE Australian Open is every punter's first chance to bet on Grand Slam tennis each New Year.
Held over the last two weeks of January, it is the first of the four major tennis tournaments in the calendar year, the others being the French Open, Wimbledon and the US Open.
Melbourne Park's Rod Laver Arena and Hisense Arena are the feature courts, with Margaret Court Arena one of three show courts. Minor matches are played on surrounding courts.
The event was first held in 1905 and regularly has players from cooler climates struggling with the oppressive heat. Some days get over 40C (104F), which is hot, in anyone's language.
In 2007, it was a monster summer, and several players suffered dehydration, enough to be put on intravenous drips. An extreme heat policy has been instilled since then, with play being suspended if there is a danger to the players.
Played on grass until 1987, the surface was changed to Rebound Ace for the 1988 tournament, which was used until 2008, when it was replaced by the blue Plexicushion, used today.
The tournament, which is second only to the US Open in crowd attendance, drew some 684,000 fans in 2013, with a record 80,735 turning out on Saturday, January 19, 2013, for day six.
And while the school holidays bring the big crowds, not all players are pleased with the tournament being held so soon after the Christmas and New Year break, with those of the calibre of perhaps the greatest player of all time, Swiss champion Roger Federer, complaining that the players don't have time to get fit. But everyone's in the same boat. Moderation, Roger.
In 2014, big Swiss man Stanislas Wawrinka knocked over Spanish superstar Rafael Nadal, 6-3, 6-2, 3-6, 6-3 in the men's division to win his first major title, while China's Li Na rolled Slovakian Dominika Cibulkova 7-6 (6-3), 6-0.
While the men's and the women's singles events are the drawcards – with 128 men and 128 women starting the tournament – there are plenty of other divisions fought out over the fortnight. Seeding, qualification and wildcards are all in play to determine who plays where in the draw.
There are men's, women's, and mixed doubles, junior championships, as well as wheelchair, legends and other exhibition events, to satiate punters from the novice to the hardcore.
In 2014, the tournament was worth some $33 million to the players.
While it would be easy to forget, the tournament hasn't always been played in Melbourne.
In fact, while it was first played in Melbourne in 1905 – then known as the Australasian Championships – the tournament, which was not officially recognised as a major until 1924, has actually been held in five Australian cities, as well as two in New Zealand, and was also known as the Australian Championships, until it became the Australian Open in 1969.
Melbourne has hosted the tournament 55 times, but it's also been in Sydney, New South Wales, (17 times), Adelaide, South Australia, (14 times), Brisbane, Queensland, (seven times), Perth, Western Australia (three times), Christchurch, New Zealand (once, in its second year of existence), and Hastings, New Zealand (once).
Now that you know a little bit about the tournament, let's take a look at some of the betting options available to punters and how you go about wagering your hard earned on them.
Betting on who will win the Australian Open
This is as easy as it gets.
Simply decide who you think will win the tournament, go to one of our recommended online bookmakers, find the market and click to place your money on the winner.
Usually, in the lead up to the event, these markets will only be provided for the men's and women's winners, and then around the time the event starts, more markets come up for the doubles tournaments.
It can be tough though. The open is renowned for upsets. So just whacking it down on the number one seed, a guy like superstar and world number one Novak Djokovic, or the untouchable Serena Williams doesn't always bring rewards.
Whoever you select has to make it through four knockout rounds to qualify for the finals and then face the best of the best in do or die quarters and semis, before it is whittled down to just two in the final.
In 2014, Nadal entered the final against Wawrinka as a hot favourite to take the title and equal Pete Sampras with 14 grand slam victories, but it was the Swiss who got the better of him. On his way there, he became the first male player in 21 years to defeat the top two seeds on the way to winning a grand slam tournament.
Because of the aforementioned 'holiday hangover' the upsets can come thick and fast in Melbourne.
In 2002, the top two seeds fell in the first round and the top four seeds were out by the second round in one of the biggest grand slam boilovers of all time. The Fed express was an unbackable favourite to win the title in 2005, so he went and lost to Marat Safin in the semis, and again, in 2009, he was favoured to maul Nadal after the latter took five hours to win his semi final, but that didn't happen either.
Like those odds? Bet away.
Pick the winner of both the men's and women's Australian Open title
This is where you can get odds on both the men's and women's winner in one. So it's double trouble, because, for your bet to win, you have to correctly pick who will win in both divisions. So the obvious bet here is the two favourites, world number ones, superstars, Djokovic and Williams.
The odds won't be great though. Expect $5 or $6 at best. It's worth trying to find some value. You don't have to go too deep in the rankings either. Go for say Nadal, who is one of the top seeds in the men's division, and keep Williams there and you're looking at double figure odds.
Betting on whether a player will make the Australian Open final
Reckon your man can make the final, but might not be able to knock off that powerhouse Nole? Easy, bet on him to get through to the final. That way if he makes it into the final, but loses, you still win! It's that easy. Usually this will be under the market 'To Make Final' or something along those lines.
So you might have backed Rafa to make the final against Wawrinka in 2014. He got there, but injury and a fired up Stanislas put paid to his hopes.
He lost. You won!
How to place a bet on when a player will be eliminated from the Australian Open
Often our recommended online bookmakers will hold markets on all the top seeds, giving people a chance to bet on when they will be eliminated. So this can be first round, second round, third round, fourth round, quarter finals, semi finals and final.
Simply select your player and at what stage you think he or she will be eliminated and place your bets. Obviously the winner doesn't get eliminated, but, to use the Federer versus Safin example from 2005, the Fed Express was favoured to win the title, which means you would have got juicy odds on him being bundled out in the semi final stage.
Australian Open tournament player props bets
Here's another exotic that pits player against player, even if they aren't on the same side of the draw, or may not face each other in the tournament at all. This usually centres on who will make it further in the tournament. So it will usually be the big guns. Let's use Djokovic versus Federer. You need to decide who will make it further. So if Djokovic is eliminated in the semi final, but Federer makes it to the final, you win. That goes with any stage. If the two face each other in the final, the winner has obviously advanced the furthest.
Head to head or money line betting on Australian Open matches
Easy enough here as well. This is where you pick the individual winner of a particular match. All your player has to do is win three sets (men's) or two sets (women's) and you'll get a payout. That's for the casual punter, obviously. If you really want to win big, you'll do your research. Make sure you know about the players, what their recent form is like, how they have fared against their opponent in past meetings, are they under an injury cloud, what's their record on that particular surface?
We'll take controversial Australian Bernard Tomic ($1.65) against American Sam Querrey ($2.15) as an example of a head to head or money line bet on a match.
The Aussie is considered more talented, but more volatile than the American and he is on his home turf. But Querrey was once ranked world number 17, although that was several years ago and his more recent results have been less flattering.
So all you need to do is choose who you think will win the game, if it's Tomic, you'll get $1.65 back for every $1 wagered if he wins, and, similarly, if it's Querrey, you'll get $2.15 to every $1.
How do I place a live or in play bet on the Australian Open?
Here's where you can watch the first set or two, then cash in and make easy money. If the player you like is two sets to love up, he's a pretty good chance of going on with it. Our recommended online bookmakers will offer up odds throughout the match, usually at the end of each set, which you can snap up. This is a fun way of making the early rounds of the Australian Open, where there are lopsided odds.
We love an obscure match up, so let's go with world number 23 Alexandr Dolgopolov ($1.20) up against Argentinean outsider Carlos Berlocq ($4.20), ranked number 72.
Sure, Berlocq offers up juicy odds, but there's not much chance of him knocking over the Ukraine stud. But, wait a minute! Berlocq has just won the first two sets. The odds have been adjusted and He's now $2.20 and Dolgopolov is $1.87. The bookies still think the world number 23 can get home, but we far prefer the $1.87 for our hard earned than the $1.20 originally on offer. You place your bet on Dolgopolov to win the match, despite being two sets down. Sure enough, class wins out and Dolgopolov wins the next three sets and the match, giving you a tidy return.
Betting on other match exotics during the Australian Open
We've gone over these in more detail in our How to bet on Tennis guide, but here is a shortlist of the other options you'll find on match betting during the Australian Open.
Set betting – Pick who will win the match and by how many games.
To win first set – Pick who will win the first set.
Total match games – Usually under or over format (For example under 35.5 – over 35.5) – Pick how many games there will be in the match.
Total player games – How many games a player will win – again, usually in under or over format.
Game handicap – The bookmaker will impose a handicap on the players, with the favourite receiving – and the outsider +. Say Tomic is -1.5 against Querrey, it means he has to win by two games or more for you to win the bet, while Querrey, +1.5, can still lose, but has to lose by less than two games for you to win.
Total sets – Pick how many sets there will be in the game (three, four or five sets for men, one, two or three for women).
Set handicap – Same thing with the games, except it goes on picking how many sets a player will win.
Set correct score – Usually one for each of the first three sets (mens). Here you have to pick what the score will be in the set (example 6-3).
Set total games – Pick how many games there will be in the set, over or under format.
Player to win at least one set – Don't think your man can win, but think he can nick a set? This is the bet for you.
Games won margin – Pick the margin of games between the two opponents (usually in a bracket of how many games the player will win buy, eg 1 to 4 games, 5 to 9 games etc)
Australian Open facts and premier figures
No look at the Australian Open can be complete without a look at perhaps its greatest men's champion, Roy Emerson.
Prior to the Open era, the Australian won the title a record six times, first in 1961 and then an amazing five times in a row from 1963 to 1967. He also wasn't bad in the doubles, winning the Australian Open doubles title three times. Add to that the fact that he is a dual French, US and Wimbledon open champion and there's not much else to say about his supreme legacy.
More recently, the great Andre Agassi, and current superstars Roger Federer and Novak Djokovic have dominated the event, each winning the Australian Open four times.
Another legend, Ken Rosewall, holds a pair of quirky honours. He's the youngest ever winner of the tournament, taking the title at age 18, in 1953. He is also the tournament's oldest winner, grabbing the final 19 years later, at age 37.
The efforts of Margaret Court put Emerson's performances to shame. She won the Open an amazing 11 times, four of those in the open era. The next closest is the better Williams sister, Serena, who has five. Court won the Open seven times in a row between 1960 and 1966.
Thelma Coyne Long went one better than Court, in the doubles, winning the title 12 times.
Swiss Martina Hingis won it three times in a row, and she is the youngest woman, at just 16.
Martina Navratilova is the oldest, at an evergreen 46. Horace Rice is the oldest ever champion, winning the mixed doubles at a spritely 52.
The Open produced one of the greatest tennis matches of all time, and certainly the greatest men's final ever, when Djokovic defeated Rafael Nadal in a five hour and 53 minute marathon that stretched both men to breaking point.
Both men were coming off brutal semi final encounters, Djoker a five hour semi against Andy Murray and Nadal over four hours against Federer.
The end result: a 5-7, 6-4, 6-2, 6-7 (5-7), 7-5 marathon that had every tennis lover glued to the set (and some calling sickies at work that day).
Australian Open by the numbers
Men
Most singles titles:
Before 1969: 6 – Roy Emerson, Australia: 1961, 1963, 1964, 1965, 1966, 1967
After 1968 (Open Era): 4 – Andre Agassi, United States: 1995, 2000, 2001, 2003
Roger Federer, Switzerland: 2004, 2006, 2007, 2010
Novak Djokovic, Serbia: 2008, 2011, 2012, 2013
Most consecutive singles titles:
Before 1969: 5 – Roy Emerson, Australia: 1963, 1964, 1965, 1966, 1967
Open Era: 3 – Novak Djokovic, Serbia: 2011, 2012, 2013
Youngest winner:
Ken Rosewall, Australia: 18 years – 2 months (1953)
Oldest winner:
Ken Rosewall, Australia: 37 years and 8 months (1972)
Most doubles titles:
Before 1969: 10 – Adrian Quist, Australia: 1936, 1937, 1938, 1939, 1940, 1946, 1947, 1948, 1949, 1950
Open Era: 6 – Bob Bryan and Mike Bryan (playing together), United States: 2006, 2007, 2009, 2010, 2011, 2013.
Youngest doubles winner:
Lew Hoad, Australia: 18 years and 2 months (1953)
Oldest doubles winner:
Norman Brookes, Australia: 46 years and 2 months (1924)
Most consecutive doubles titles:
Before 1969: 10 – Adrian Quist, Australia: 1936, 1937, 1938, 1939, 1940, 1946, 1947, 1948, 1949, 1950
Open Era: 3 Bob Bryan and Mike Bryan (playing together), United States: 2009, 2010, 2011
Most mixed doubles titles:
Before 1969: 4 – Harry Hopman, Australia: 1930, 1936, 1937, 1939
Colin Long, Australia: 1940, 1946, 1947, 1948
Open Era: 3 – Jim Pugh, United States: 1988, 1989, 1990
Women
Most singles titles:
11 – Margaret Court, Australia: 1960, 1961, 1962, 1963, 1964, 1965, 1966, 1969, 1970, 1971, 1973
Before 1969: 7 – Margaret Court, Australia: 1960, 1961, 1962, 1963, 1964, 1965, 1966
Open Era: 5 – Serena Williams, United States: 2003, 2005, 2007, 2009, 2010
Most consecutive singles titles:
Before 1969: 7 – Margaret Court, Australia: 1960, 1961, 1962, 1963, 1964, 1965, 1966
Open Era: 3 – Margaret Court, Australia: 1969, 1970, 1971
Evonne Goolagong Cawley, Australia: 1974, 1975, 1976
Steffi Graf, Germany: 1988, 1989, 1990
Monica Seles, Yugoslavia: 1991, 1992, 1993
Martina Hingis, Switzerland: 1997, 1998, 1999
Youngest winner:
Martina Hingis, Switzerland: 16 years and 4 months (1997)
Oldest winner:
Thelma Coyne Long, Australia: 35 years and 8 months (1954)
Most doubles titles:
Before 1969: 12 – Thelma Coyne Long, Australia: 1936, 1937, 1938, 1939, 1940, 1947, 1948, 1949, 1951, 1952, 1956, 1958
Open Era: 8 – Martina Navratilova, United States: 1980, 1982, 1983, 1984, 1985, 1987, 1988, 1989
Most consecutive doubles titles:
Before 1969: 5 – Thelma Coyne Long, Australia: 1936, 1937, 1938, 1939, 1940
Nancye Wynne Bolton, Australia, 1936, 1937, 1938, 1939, 1940
Open Era: 7 – Martina Navratilova, United States: 1982, 1983, 1984, 1985, 1987, 1988, 1989
Pam Shriver, United States: 1982, 1983, 1984, 1985, 1987, 1988, 1989
Youngest doubles winner:
Mirjana Lucic, Croatia: 15 years and 10 months (1998)
Oldest doubles winner:
Thelma Coyne Long, Australia: 37 years and 7 months (1956)
Most mixed doubles titles:
Before 1969: 4 – Daphne Akhurst Cozens, Australia: 1924, 1925, 1928, 1929
Nell Hall Hopman, Australia: 1930, 1936, 1937, 1939
Nancye Wynne Bolton, Australia: 1940, 1946, 1947, 1948
Thelma Coyne Long, Australia: 1951, 1952, 1954, 1955
Open Era: 2 – Jana Novotna, Czechoslovakia: 1988, 1989
Larisa Savchenko Neiland, Latvia: 1994, 1996
Recent attendances
2014 – 643,280
2013 – 684,457
2012 – 686,006
2011 – 651,127
2010 – 653,860
2009 – 603,160
2008 – 605,735
2007 – 554,858
2006 – 550,550
2005 – 543,873
2004 – 521,691