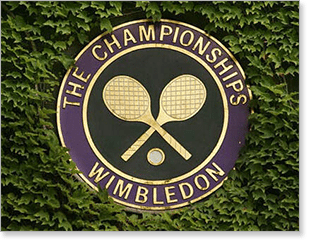 The Championship. The Holy Grail of tennis and the event watched by every sports fan around the world.
Wimbledon.
Wimbledon is the oldest tennis major and highly steeped in tradition. There are three real rules at Wimbledon: the grass must be green, the clothes must be white and the strawberries must be eaten with cream. Every punter worth their salt has a fourth rule too: make some money.
The smart punter can make a pretty penny laying any number of well-placed wagers on the richest grand slam on the tennis calendar.
Wimbledon has five main events, the men's singles, ladies singles, men's doubles, ladies doubles and the mixed doubles. There are many other events associated with Wimbledon, but these five are the main betting markets.
Each match has different markets available to bet on, but the bigger games tend to boast more markets, which means more betting opportunities.
History of Wimbledon
Held at The All England Lawn Tennis and Croquet Club, Wimbledon played its inaugural tournament in 1877. Initially the competition was a gentlemen's only affair, but seven years later they relented and included a women's competition too.
Held in London on the first Monday to fall between the 20th and 26th of June each year, Wimbledon may not be the first Grand Slam on the calender, but it is the most illustrious.
Names like William Renshaw (7), Pete Sampras (7), Roger Federer (7) and Martina Navratilova (9) are often referred to as giants of Wimbledon for long-standing dominance at the event.
Best Bookies to Bet on Wimbledon
There are a number of trusted bookies that boast a list as long as your arm of betting options on Wimbledon. Each of these bookies has enticing sign up bonuses when you register with them.
www.Bovada.lv is one such bookie. Bovada is a one-stop-shop gambling platform that boasts a sports book, online casino and online poker. Once you sign up and make a deposit with Bovada through their sports book you are eligible for a free bet worth 50% of your initial deposit, capped at $250.
Depositing and withdrawing funds with each of these bookies is a simple matter, but check with each individual bookie for their depositing options, withdrawal options and their terms and conditions and any possible fees involved.
Wimbledon betting options
The jewel of the Wimbledon crown are the singles competitions – a gruelling pair of knock-out tournaments just brimming with gambling possibilities.
Outright betting
Outright betting is a single bet on who you think will win the tournament in each event. Odds are often longer before the tournament begins and will be adjusted according to wins and losses throughout the tournament.
The favourite for each event obviously boasts shorter odds. Prices can range from as short as $2 and blow out to as much as $501.
Here is an example of how the top five favourites look for the 2015 Wimbledon Outright Betting:
N. Djokovic – $2.50
A. Murray – $6
R. Federer – $6.50
R. Nadal – $8
G. Dimitrov – $15
Obviously it is better to be armed with a bit of knowledge before diving head first into an outright bet. Do your research and find out who has the best recent form at Wimbledon, who plays the best on a grass surface, injury updates and form fluctuations – it's all vital to this bet.
Head-to-head
Head-to-head betting is available on every singles match played throughout the duration of Wimbledon. A head-to-head bet is as simple as they come and is essentially a 50/50 bet whether Player A or Player B will win. The odds however are often far from 50/50 and are adjusted due to each players' likelihood of winning the match.
For example: A. Murray ($1.13) vs. B. Paire ($5.40).
Again, it is wise to have a bit of knowledge of each player, their stats on grass (or clay or hard court) and the players' history against each other. Remember, typically the odds are the way they are for a good reason.
Set betting
Set betting has many different esoteric wagers that falls under this general category. Bets like whether player A or B will win in over or under 2.5 sets in the match are available. There is also a sort of head-to-head bet on who will win the first set:
You can even pick up set handicap bets for the match, more often than not these bets are handicapped at plus or minus 1.5 sets like this: K. Nishikori (-1.5) – $2.25, R. Gasquet (+1.5) – $1.53.
There are first set markets often available on games like: will Player A win at least one set? Yes – $1.20, No – $3.75.
Total games markets
Total games markets is a market based on the number of games played in a match.
An example of a total games market is under 28.5 – $1.80, over 28.5 – $1.90.
In a three-set match that goes 6-3, 7-6, 6-4, a total number of 32 games has been played. If you had bet the over 28.5 line for the games total, you would win.
In addition to the number of games, you can also bet on the number of games within individual sets – typically the first set. This group of bets usually offers 10 options ranging from under 6.5 to over 10.5. Here is an example of how the market may look:
1st Set Total Games Under 6.5 – $34
Over 6.5 – $1.01
Under 7.5 – $8.50
Over 7.5 – $1.05
Under 8.5 – $4.25
Over 8.5 – $1.20
Under 9.5 – $2.10
Over 9.5 – $1.66
Under 10.5 – $1.33
Over 10.5 – $3.16
A similar but more liberal bet is the first set total games 3-way bet. Here is an example: 8 games or less – $4.05, 9 or 10 – $1.83 and 12 or more – $3.04.
Handicap betting
Just like other sports, handicap betting is available on Wimbledon matches and tennis matches in general. Handicaps on tennis work the same as with any other sport. You are betting on one player either winning by a certain amount or losing by a certain amount.
Some matches can offer up to seven alternative handicap lines for games. Here are some examples:
H. Watson (+2.5) – $1.90, (+4.5) – $1.44, (-1.5) – $2.62, (+6.5) – $1.14, (-3.5) – $3.25, (+8.5) – $1.02 and (-5.5) – $5.90.
Doubles betting Options
Doubles betting options aren't as abundant as the singles betting options simply because they are not as popular.
But you will generally find head-to-head betting, outright tournament winner, sets betting and as Wimbledon progresses you will find more and more markets for doubles betting.
Live betting options
Depending on which country you are based in, you may be able to bet on Wimbledon while a match is in progress. Some countries don't allow live betting, while some only allow it over the telephone. Generally live betting markets and odds can be viewed online but you can only execute a live bet over the phone. Bets like who will win the next match, set or point are available. Check each bookie for their own guidelines regarding live betting.
Just remember, when having a punt on Wimbledon or tennis in general, that a little knowledge of the players and the tournament can go a long way.
Bet with your head, not over it.